As most of our friends and blog followers know, we stay pretty busy.  Lately, that has been an understatement.  While I would like to be going to bed right now, I feel we are way overdue for a blog update, so I'll get to it with a few recent highlights.
The kids participated in the Mystic Pony Club summer camp last weekend.  Alex took Mojo, Vicki took Duchess, and Amanda took Huey.  The temperatures were in the mid to upper 90s every day, but the kids did 2 lessons each day.  Heather Navarrete was the instructor for 5 of their lessons and all 3 kids made very good progress on their eventing.  Alex and Mojo turned out to be an excellent match.  Amanda and Huey even did a small cross country course on the last day of camp.
Here are a few videos of the kids practicing cross country and pictures from camp.
Alex and Mojo cross country lesson
Vicki and Duchess cross country lesson
Amanda and Huey cross country lesson
After camp ended, the horses and kids got a couple of days off.  I was fortunate that work gave us an extended 4th of July holiday.  On Thursday, Alex and I went to the Mystic Seaport for a blacksmith private class.  We spent 3.5 hours in the shop learning about tending a coal forge, different tools, and actually making some hooks.  This is something Alex has been interested in for a while so we bought some lessons for his birthday last month.  I have been working on acquiring some tools so we can do some projects at home.
On Saturday, we took Mojo and Duchess to the Horse Power Farm jumping derby.  Alex rode Mojo in the pre-elementary division.  They did pretty well with only 1 refusal.  Alex was a little surprised at how hot Mojo was on the course because Mojo is so lazy in the warmup.  It was a little funny to watch Mojo come alive out in the open.
Vicki rode Duchess in pre-elementary and also had 1 refusal (on the same jump as Alex).  They are still making good progress as a team.
After they finished, I rode Mojo in Beginner Novice.  My ride didn't go quite as smoothly as I was thrown on the 7th jump.  I was allowed to get back on and finish schooling, but then had 3 refusals on the last jump.  Clearly we have work to do.
Today was the West Greenwich Horseman's Association Hunter Pace #2.  The whole family rode the 10 mile course and we took 1st place in the Hilltopper and Junior divisions.  I didn't take but a couple of pictures, so here is one: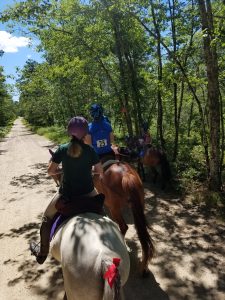 The schedule for the summer is packed with horse activities, but that's just what we do.