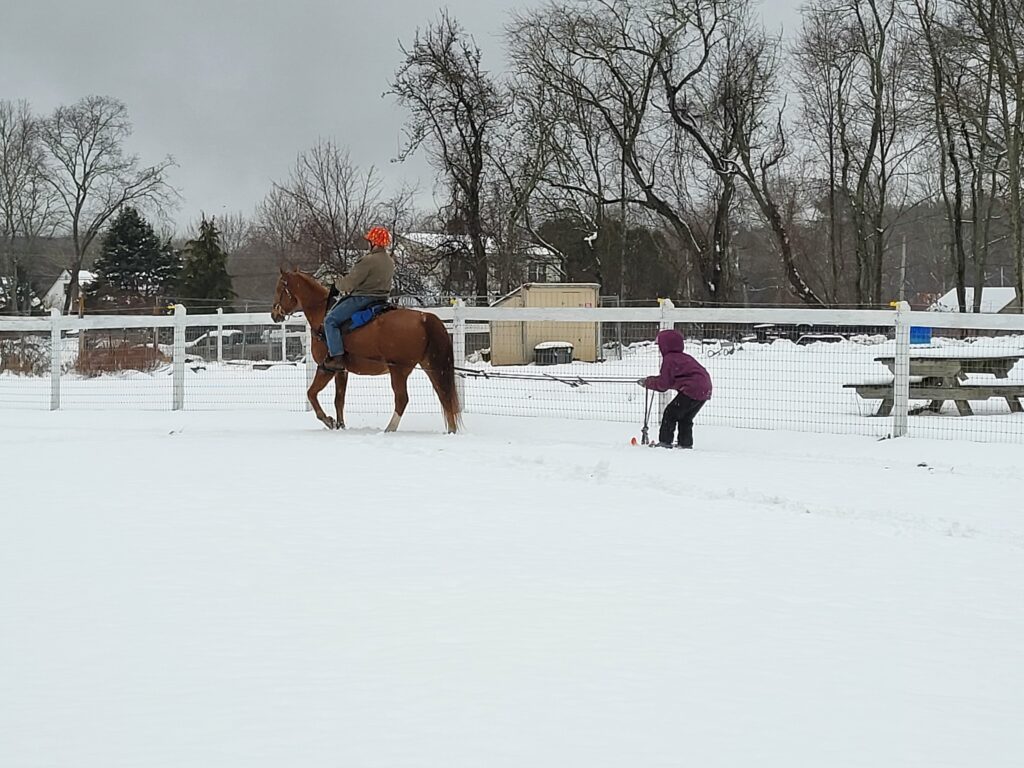 Overnight Monday night into Tuesday we got about 7-8 inches of snow. School had already been cancelled for all the kids, Rob's work event was cancelled and I was the only one who had somewhere to be (the dentist), so not a big deal. Turns out the dentist was still open and in business, definitely not calling in a snow day. So I got up early to take care of some chores and feed baby goats before I had to leave.
Early Tuesday morning our baby goat count was four. Sawfish Jasmine kidded last Friday and added two bucklings to Sawfish Camellia's two doelings from the previous Saturday. Jasmine's boys were named Chevy and Ford by the kids! Chevy is the solid black and red with a star like mama's. He was 9.3 pounds at birth. The black with red and white markings is Ford, and he was a little smaller at 7.8 pounds. Jasmine needed my help with the first boy, but after that the second one came out without assistance. Jasmine is a smaller, slower maturing doe and a first freshener, so I am not surprised she had a little trouble with a 9 plus pound kid. They both presented normal (two feet, nose), which I am grateful for, being alone on the farm with Rob away on business travel.
Camellia's doe babies Mercedes and Porsche continue to be doing well and Mercedes (the splashy colored one) in particular is a heap of trouble, hopping around the kitchen and causing mayhem. Porsche is a little quieter, but also a bit more solid in structure IMO. They started going out into the garage pens with heat lamps and will transition to living out there and not in the house. Eventually as weather and temperatures allow, they will move into our outside baby pen.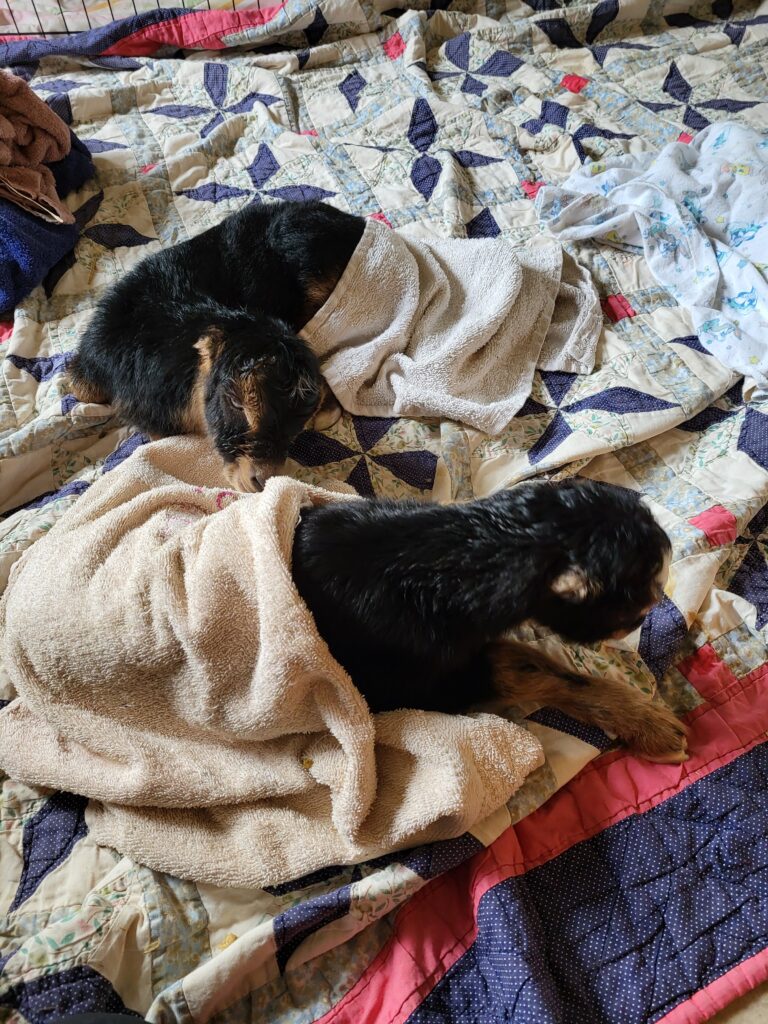 Well, enough of the update, back to the snow day. In the barn, I went to check on Sawfish Freesia, who had a March 2 due date, and she was showing some signs that maybe today was the day to kid. She was breathing heavier than normal, her belly had dropped low compared to yesterday and her ligaments were loose. Her udder was also full, but no discharge. I went to have my cup of tea and coffee, and when I came back to the barn, she had delivered two babies! She might be a keeper. Her mom LongvuTabula Rasa also had easy deliveries. One 7.8 pound doeling and 8.6 pound buckling. Black with tan doeling and black with red buckling with white splashes. We brought them inside to warm up. The kids named them Audi and Harley (I know, not a car, but he has the tough look, apparently). They are both long legged, and will likely take after their mom who is a longer and taller statured goat.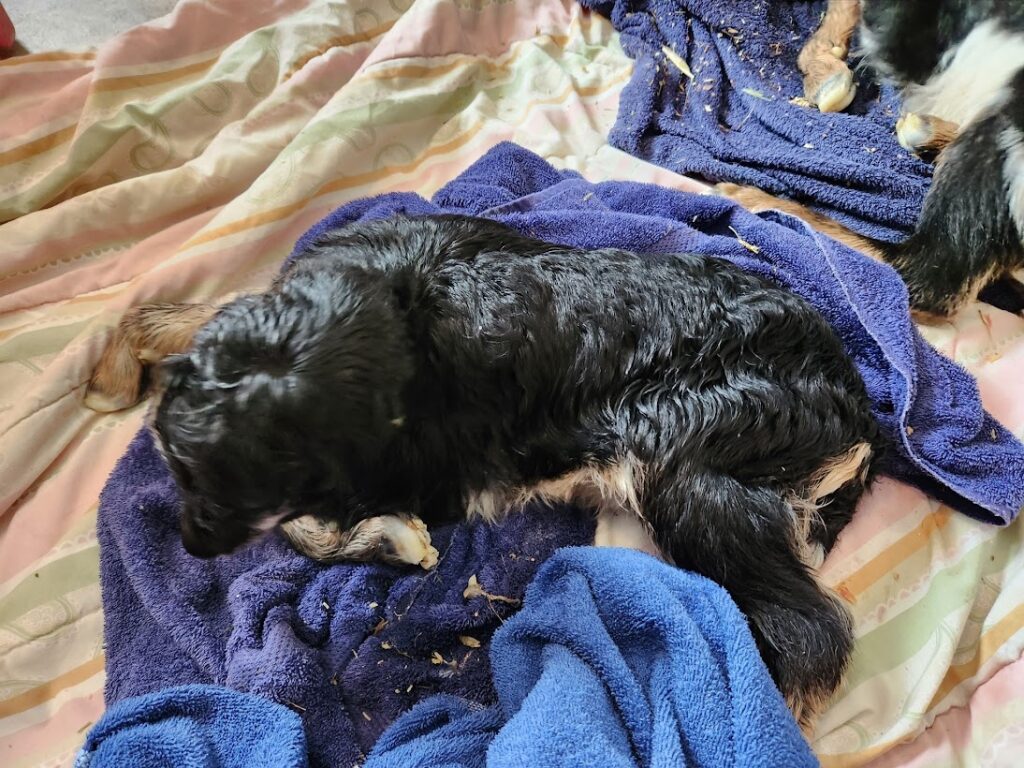 All the goat babies so far are very similar in color. Freesia, Jasmine and Camellia all have the same dad, Idikka Yoshi (out of Barnowl Quartermaster), and were bred to the same buck, so the kids are very similar in look. Black and tan or red, with some sort of white marking. More splashy white on some, only a star or white tail tip on others. Several look a lot like their dad, E.B Farms LL Regal, especially Chevy.
With babies settled, I went off to the dentist, Rob was working from home, and Quinn and Amanda tended to the babies and took care of Freesia. All is well.
Later in the afternoon, Amanda decided she wanted to try skijouring behind Mojo, so we cleaned the stalls and then got Mojo out. He was game, and besides it is good pre cart training, right? We are working on harness training Mojo to drive. Amanda got tired quickly and decided a sled might be a better idea. We also added a lunging aid breeching to help keep Mojo from stepping on the traces from his breast collar.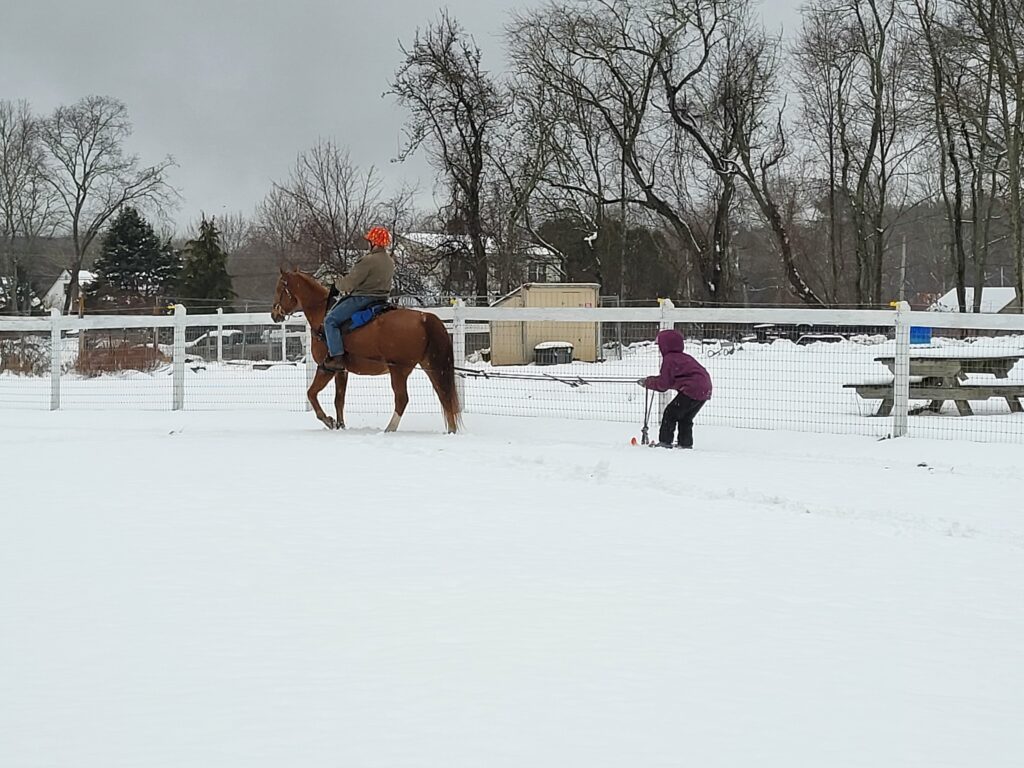 Check out some short clips from this adventure below:
Stay tuned as we are expecting babies from wonder goat Phaylene next in about two weeks. Think pink!