On Friday morning, Vicki's team gathered up at 0700 to verify their scores from the previous day.  The worked as a group to polish their boots prior to the final phase of competition, Barn Phase.  They entered the final day in 1st place, but with only a 3 point lead on the 2nd place team.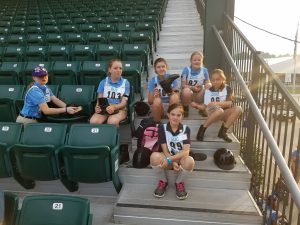 Once they were done with Barn Phase, we spent some time watching the stadium jumping for eventing in the Rolex Arena and Jr Games final round while we waited 9+ hours for awards.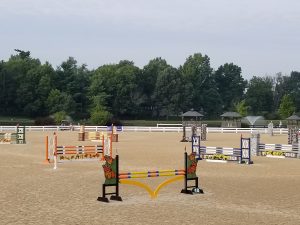 We visiting the Saddlebred Museum (King is a 1/2 Saddlebred) and enjoyed the air conditioning.  Vicki hung out with her friends from her team since they all live about 3 hours away.  She spent time during the week trading pins from her Region with kids from other parts of the country.
Once it was time for awards, all the Quiz teams went into the covered arena together.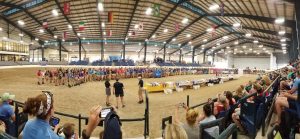 Alexis is Vicki's best friend and also in the same Club.  She was on a different team from Vicki and was the highest scorer on her team, helping them get 5th place.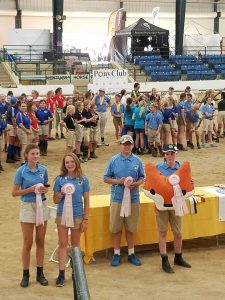 Vicki's team wasn't able to hold on to the 3 point lead.  In the end, they got 2nd place, but were all smiles as they collected red ribbons, silver medals, and a pair of boot socks.
After team awards, individual awards were announced.  At the Regional Rally to qualify for Championships, Vicki had the highest individual score.  She again led her team and won 5th overall in her Junior D division.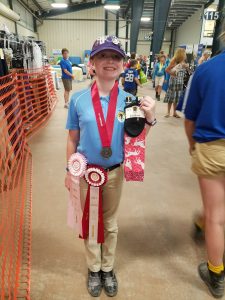 Now that she has done Champs in Quiz, she wants to ride next year in Games, Show Jumping, or Eventing.
We decided to just drive on home and not do any sightseeing on the way back, so days 9 and 10 don't have any pictures.  Overall, it was a good vacation and we enjoyed visiting Lexington.  I am thankful my parents were able to come up from Alabama to join us and spend time with the kids.