We are officially on vacation!  Back in the winter, we told Vicki that if she qualified for Pony Club Championships in Quiz, she could attend Champs and 1 day of Breyerfest.  Well, she did and we are now on our vacation in Lexington, KY to hold up our end of the deal.  We found a gas station with a porta-potti and managed to avoid a crisis, however, traffic was normal (read crappy) and it took a while to get through NY.  In fact, we traveled about 400 miles for the first day on the road and only averaged 41 mph on the roads  – that's actual cranked car time, not including stops.  Obviously, we encountered a lot accidents, traffic jams, heavy rain, and in general other bad driving conditions.
Since we were not in a rush for our trip, we decided to do something fun each day to break up the driving.  The activity for Day 1 was Hershey PA.  We stopped off and did the "Factory Tour" and "Chocolate Tasting Experience".  The kids enjoyed it and it wasn't too bad, although we didn't buy anything from the exorbitantly priced store.
When we made it to Maryland, we stopped at the rest area and Fireflies were out.  The kids enjoyed a few minutes of chasing them around the grass before climbing back in the car.  Here's a video Anna took of the kids running around after the Fireflies.
We stopped for the night at almost 10pm at Holiday Inn in Hagerstown, MD. The kids were happy to hit up the pancake machine this morning before we continued on the journey.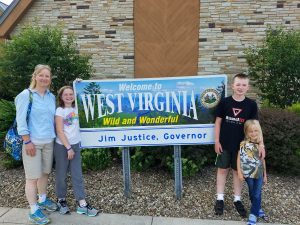 Today's stop was at the Clay Center in Charleston, WV.  The Clay Center is part of the Blue Star Museum program which gives free entry to military and it has a science center and art museum.  The kids enjoyed exploring the science exhibits and climbing on the 3 story climbing sculpture.  The exhibits were well designed to target kids, interactive, and engaged across the age spectrum.
Vicki was looking forward to the art exhibits, which was only a small area, but satisfied her desire.  Everyone had to choose their favorite piece of art and explain to the family why they chose that one.
After our break, we continued the drive to KY!