It has been almost 3 weeks since we made a blog post.  It's not that nothing has been blog-worthy, but rather, we have been so busy we haven't had time to sit down and catch up.
Last weekend was our annual trip to the Hartford County 4-H Camp for Pony Club Columbus Camp.  We took 4 of our horses – Mojo (for Alex and Rob), Teddy (for Vicki), Devil (for Vicki), and Huey (for Amanda).  It started to rain on us Saturday afternoon and rained all day Sunday.  All the kids did 1 lesson in the pouring rain on Sunday and then decided to skip the afternoon lesson.  Devil was getting seriously underutilized and came home on Sunday afternoon.  He was literally climbing the walls in the stall and losing his mind.  He was much happier to be turned out with King when he got home.
Alex ended up riding 3.5 lessons on Mojo, including jumping.  I picked up 2.5 lessons on Mojo and we were able to loan him out for 2 more lessons when another kid had her horse go lame.  In the end, Mojo did 8 lessons in 2.5 days.  And he was awesome for every lesson.
Vicki rode Teddy for 3 lessons and 1 on Devil.  Teddy was calm and cool with Vicki and they were able to work on some jumping.  Amanda did 4 lessons on Huey; we were much more focused on the experience for them rather than a specific lesson goal.  I'm sure we didn't take nearly enough photos, but here are a few.
The horses were happy to be home after camp.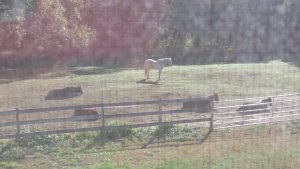 Since Vicki is outgrowing Devil, and Amanda is moving up to ride Devil occasionally, Huey is getting used a little less.  We have decided that he will stick around and become our driving pony.  We were lucky enough to find a harness locally that fit him, so he has been getting worked for some ground driving.  This week, Vicki and Alex both got to start learning how to ground drive Huey.
On Friday evening, Alex and I were able to spend a couple of hours in the stand hunting deer.  We got to see 3 young bucks and 1 doe, but came home empty-handed.  Saturday morning, Alex and I took Mack out for the opening of pheasant season.
Today, we did a family trail ride. King's health over the past year has been up and down as he combats EPM.  For the last few days, he has been doing surprisingly well.  Today, Alex was able to ride him for an hour covering 4 miles on our trail ride.  All 5 members of our family rode with all 5 of our horses.  Vicki rode Huey since he has been giving Amanda attitude on the trails and Vicki can work the spunk out of him if needed.
Once the ride was over, we did a little work outside and came in for dinner.  Fried pheasant from yesterday's hunt, rice and gravy, and cole slaw with a cabbage picked from our garden this afternoon.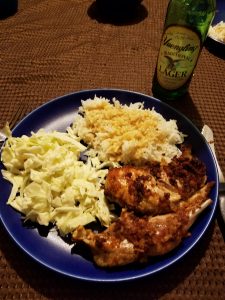 There is no question that October and November are my favorite months in New England.