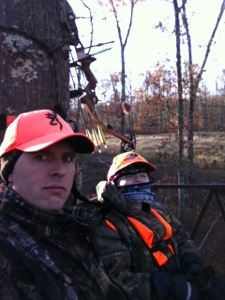 Today at work, I ended up with an unexpected open afternoon. Cold snap last night, bad weather coming tomorrow, first week of November, and Alex was out of school! I headed home at lunch and loaded my new (off Craigslist) 2 seater ladder stand in the truck to take Alex out for a hunt, his second with me this year. Earlier in the season, I had hunted a new property and found a promising area that I was saving for this new stand. However, when we got there, I was disappointed to find another stand in the same area. Ok, we can find a different spot on the property.
However, I also found a pile of apples and a corn feeder. While I am completely supportive of baiting, I limit my baiting to legal areas only. This bait pile is illegal. I'll let the landowner know (because I know he didn't put the pile out), but it gave me the chance to discuss with Alex the legal and ethical aspects of hunting.
It was disappointing that I won't be hunting there anymore, but it was an excellent teaching opportunity for my young hunter wannabe.
I'm sure he will explain it to his sisters when we get home since they were both disappointed that they didn't get to hunt this year.