Before we start, thank you to everyone who has checked in and sent well wishes, cards, baskets, etc since my (Rob's) injury. I am recovering well, even if I do overdo it occasionally. My lung capacity is back to full strength and now its just a matter of letting the ribs finish healing. I have been hiking (5 miles this weekend) to restore some fitness.
September 29 – October 3, most of our herd of Lamanchas was at the Eastern States Exposition, aka The Big E. The Big E is essentially the New England Fair. Thursday through Saturday is all about the 4-H goat show and Sunday is an open goat show. Last year was Quinn's first time attending the 4-H goat show and this year Amanda was old enough to attend as well. The animals move in on Thursday afternoon and the kids move their gear into the on-site (15 min away) dorms. Since Rob was recovering from the broken ribs, he camped in our travel trailer at the Big E instead of chaperoning 4-Hers in the dorm. Quinn and Amanda had 10 of our goats at the fair: 4 milkers, 2 dry yearlings, and 4 2023 kids. There were only 2 other lamanchas attending: 1 milker and 1 kid.
Thursday evening at 7pm, all the milkers get milked out as part of a milk test to see how much each doe produces in 24 hours; Thursday evening establishes the zero point for each doe. The goats are then milked again at 7am Friday and 7 pm Friday. The weight of the milk is recorded for the Friday milk outs and samples are sent off for testing. For milk outs, other 4-Hers jumped in to help get the does milked quickly. Sawfish Camellia (owned by Amanda) ended up winning the milking competition for Lamanchas producing 7.4lbs in 24hrs as a first freshener that kidded in February!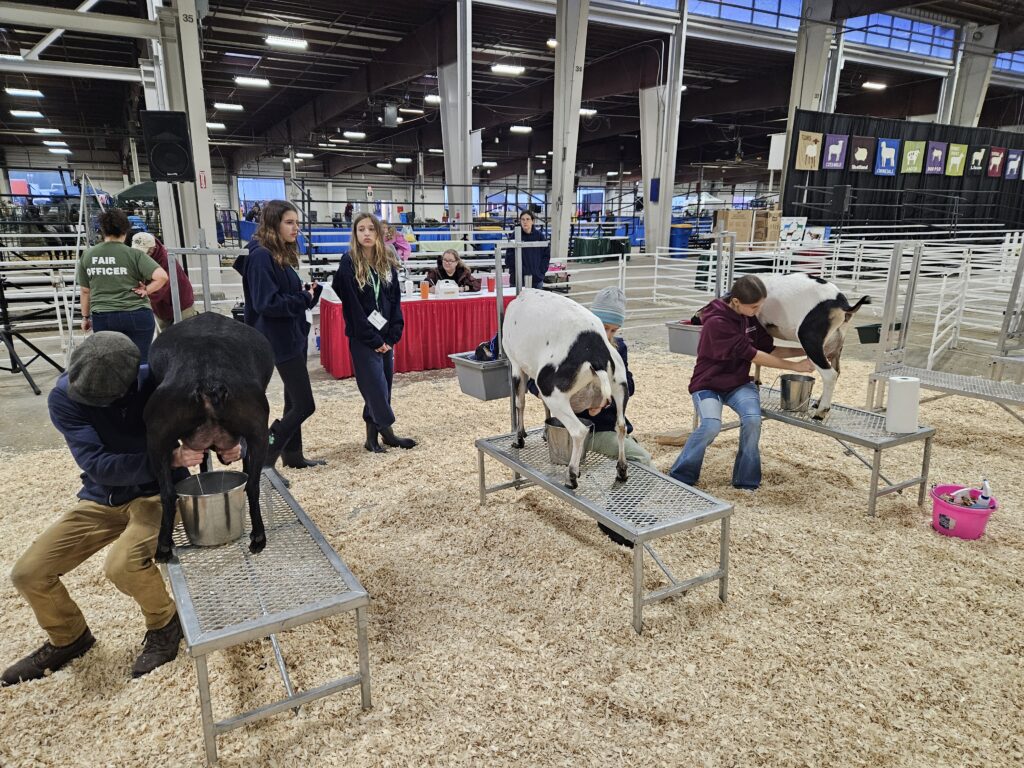 The kids have to be in the dorm at 10pm and get up at 5:30. After the Friday morning milk out, there were competitions for showmanship and fitting. Showmanship is all about how well the exhibitor has prepared. It includes handling ability, knowledge questions, and overall presentation. Fitting is all about preparation of the animal, mainly the clip job and hoof care. Showmanship and fitting competitions are conducted by age groups of the exhibitors and the breed of the animal doesn't matter. These competitions took well into Friday afternoon.
The judge for the event was Julie Matthys, a well known Lamancha (and other breeds) breeder from Indiana under the herd Mint Leaf Lamanchas. She did a seminar with the youth on Friday afternoon covering topics such as nutrition and disease prevention. Friday evening the kids had to participate in a stations activity before the ice cream social. I think they made it back to the dorms at 10 on the nose.
Saturday morning was the breed competitions. This time, the judge was placing each class against others in the breed. Again, Quinn and Amanda recruited other CT 4-Her's to help show since we had multiple animals in the same classes.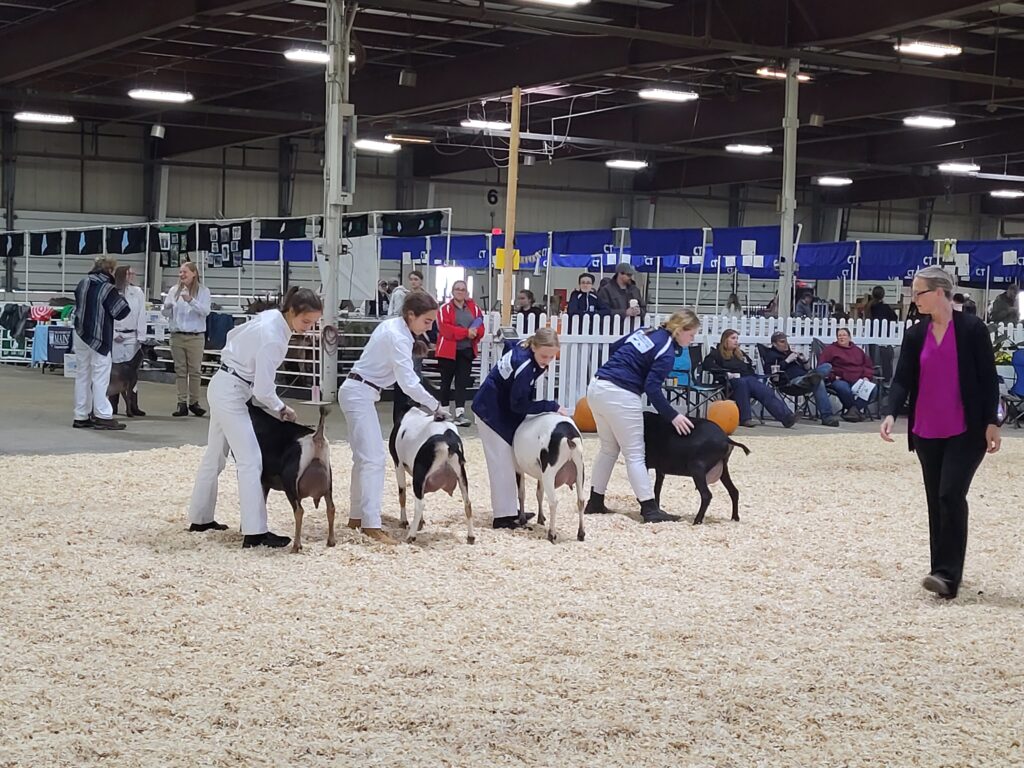 Around 3pm Saturday, the 4-H show ended and many of the animals departed. Later in the evening, another 200 or so goats started arriving for the Open Show on Sunday, which included a decent number of Lamanchas. Sunday was a standard ADGA show and Anna even entered the ring! Quinn and Amanda enjoyed talking with other breeders and learning details from more experienced herds.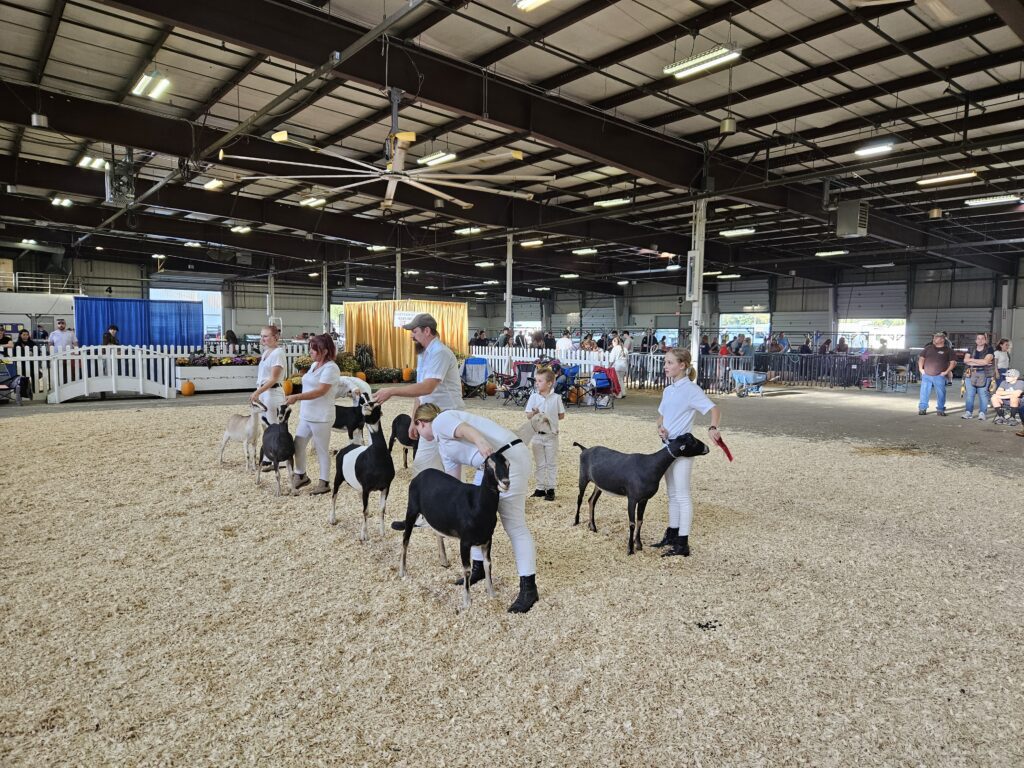 Even though we didn't have any huge wins in the classes, we were surprised to find out Quinn won Premier Exhibitor and Premier Breeder for Lamanchas! We assume this was based on total points and the fact that we had about half the Lamanchas in the show probably helped.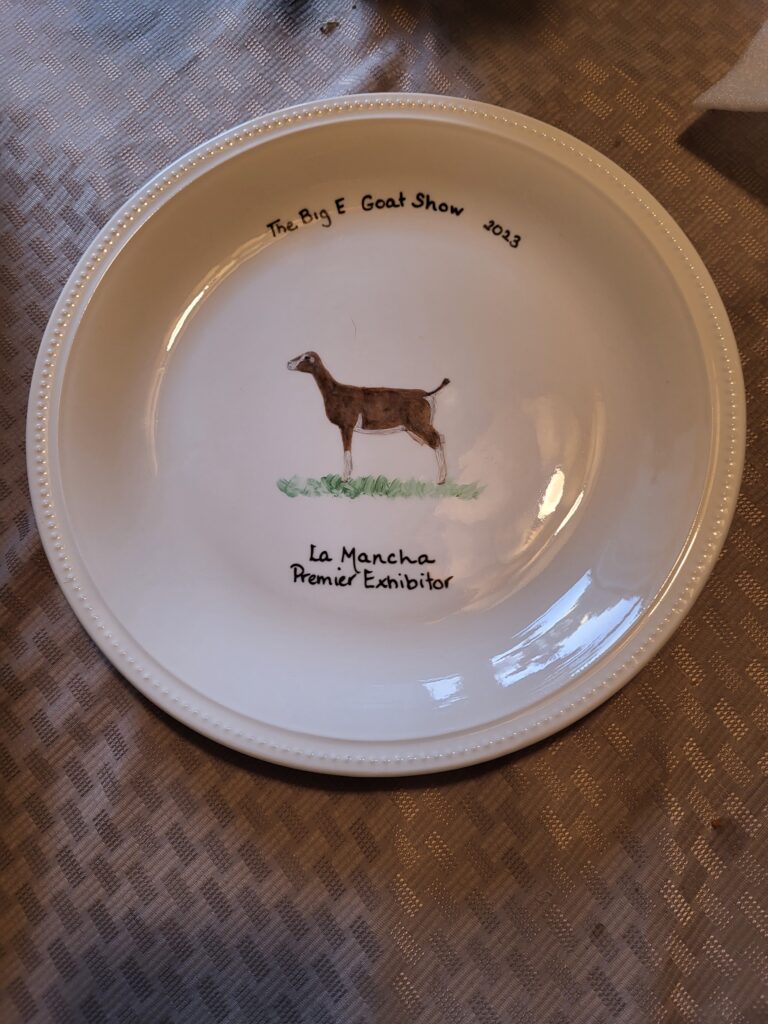 We wanted to get some nice setup/show photos of all the goats, but honestly it was so busy that things just didn't work out. We did get a few.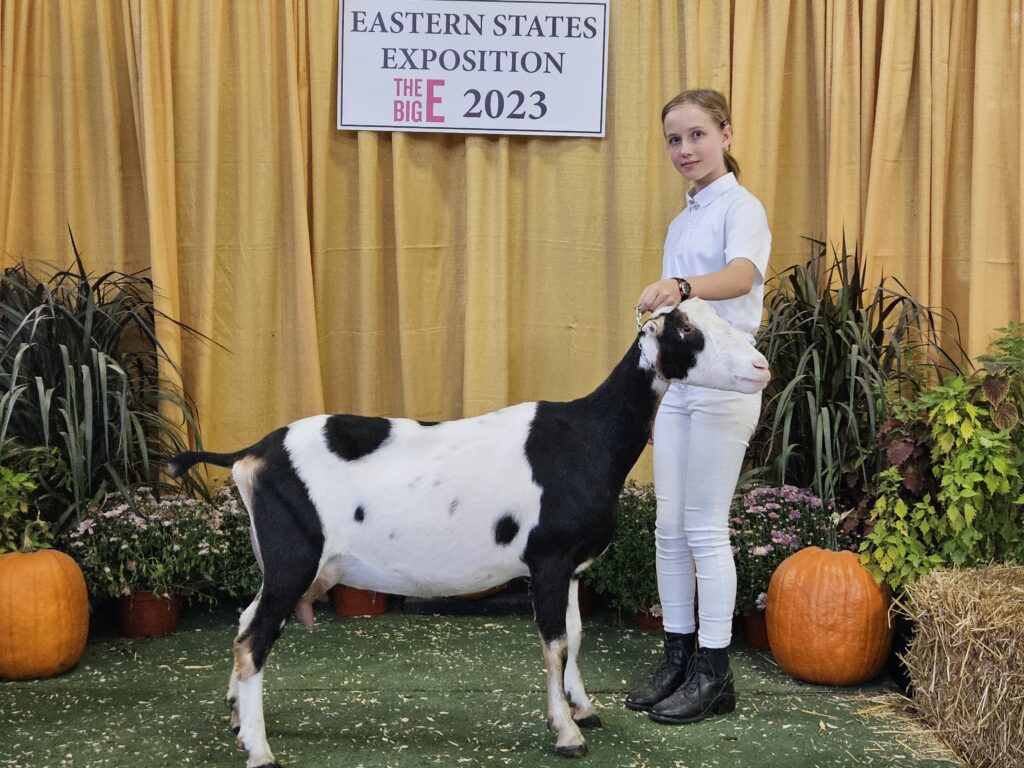 We made it home at about 9:30pm on Sunday and the goats and everyone was exhausted. Breeding season is now in full swing as the does have been coming into heat. Late February to early March will be busy around the farm as we are breeding 8 does this year. At the end of long weekend, we actually came home with 1 more goat than we left with: Majenli LK Carolina joined our herd. This is doe is one that Rob fell in love with at the Big E in 2022 and when we found out she was available for sale, there was no discussion required. Carolina has already been bred to one of our bucks, Majenli LK Rip Wheeler.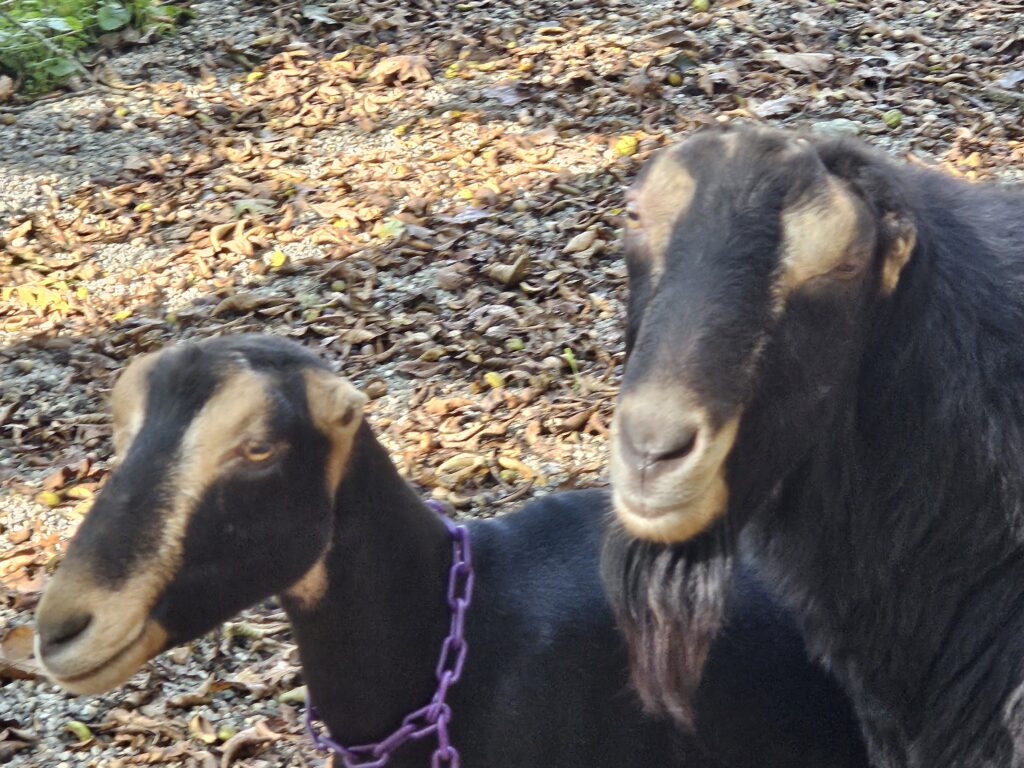 Anna decided to add a goat to the herd in August. Her name is E.B Farms Sunstone Tulsi. She was a yearling milker this year. We have dried her off and she has been bred to E.B. Farms LL Regal for late Feb kids.