Time flies when you are are having fun. Or when you are crazy busy (which is always the case here) and realize it's been almost a month since we gave a big update.
Anna and I attended the Eastern Competitive Trail Riding (ECTRA) Winter getaway in New Jersey. The weekend included a full day of AERC vet Susan Garlinghouse talking about distance riding nutrition, metabolic issues, supplements, hydration, and more. Saturday evening was a banquet with the other attendees. The only down side of the weekend was we had to drive to New Jersey. It took 2.5 hours to get home on Sunday but over 4 hours to get there on Friday afternoon.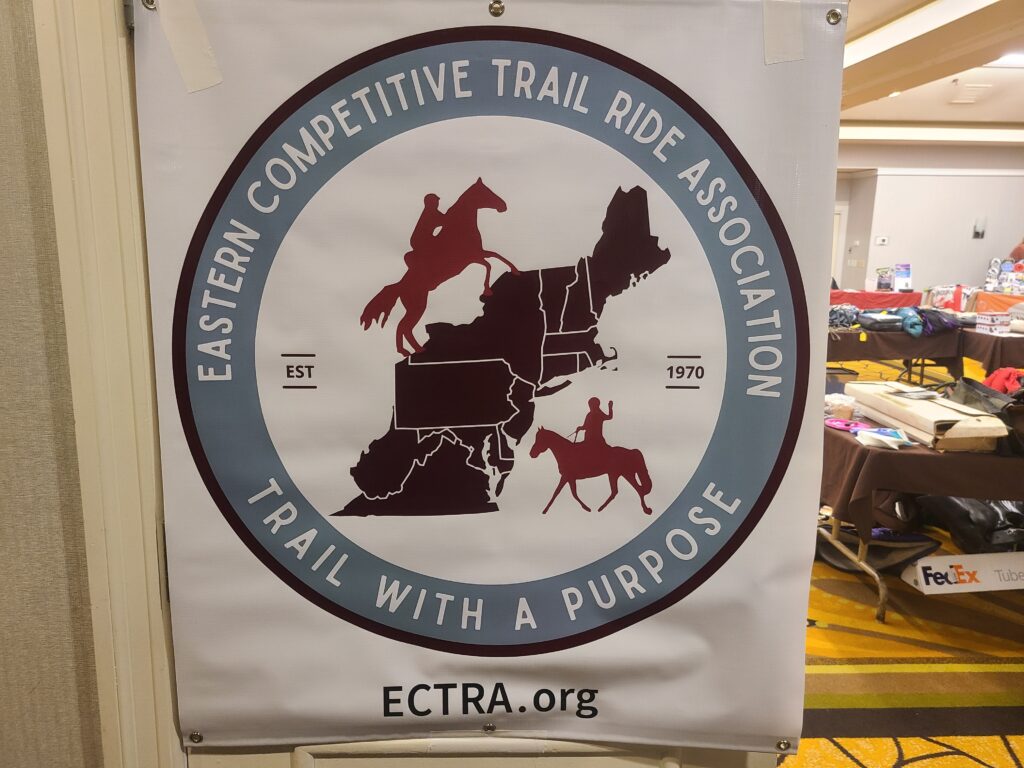 While we were gone, the kids picked up Anna's parent's from the train station as they flew in for the first time in 3.5 years. They stayed for a week and a half. While they were here, we did manage to hitch Huey for some driving. We didn't get a photo with all the kids, but we did catch Alex with Roland and Sylvia before they left.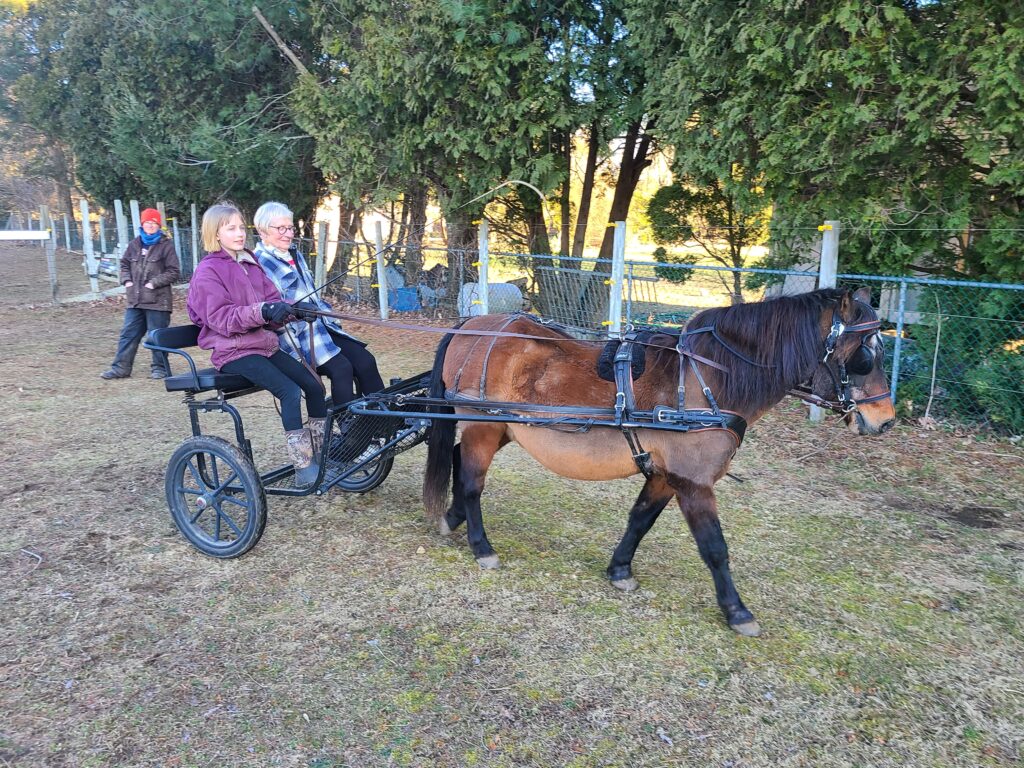 On March 16th, Phaylene kidded with triplets – 2 does and a buck. The have our two classic colors of either black with white splashes and brown trim or just the black and red. At 8 years old, we aren't sure if we will breed Phaylene again, so we are thrilled to get 2 does kids out of this breeding to E.B. Farms LL Regal. That brings Regals count to 5 does and 4 bucks out of 4 kiddings. Not bad for his first season.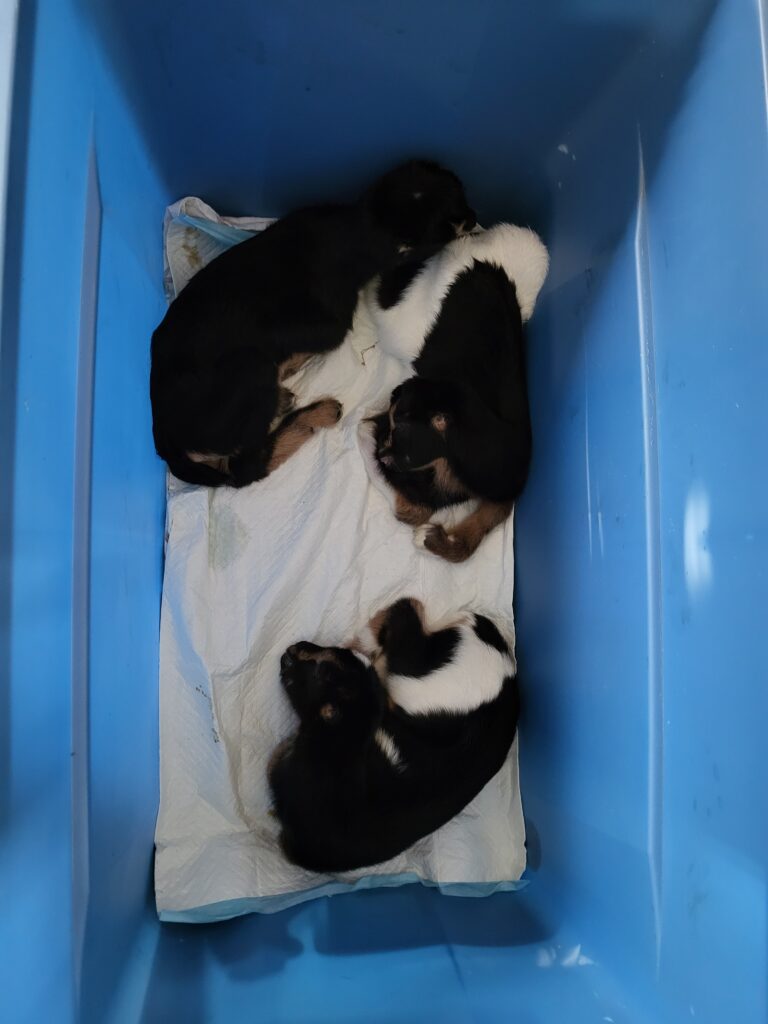 Anna and I get fancied up for Sonalysts' annual gala at the Mystic Marriot. This is an event that had been cancelled in 2020 and 2021, so it was a ton of fun to enjoy dinner, drinks, and dancing with others from work.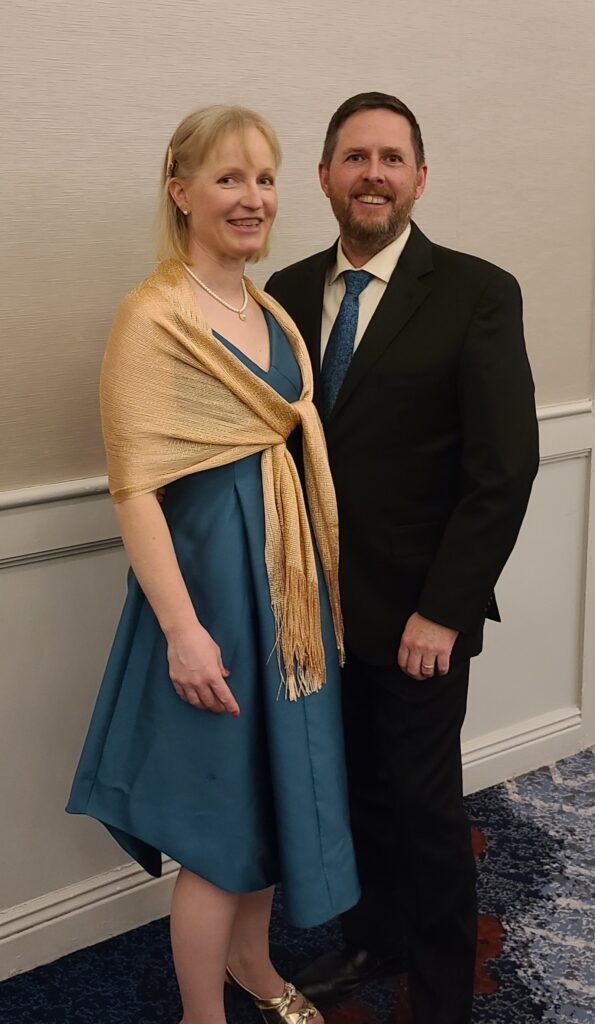 The February doelings are growing great and enjoying their time outside on a daily basis.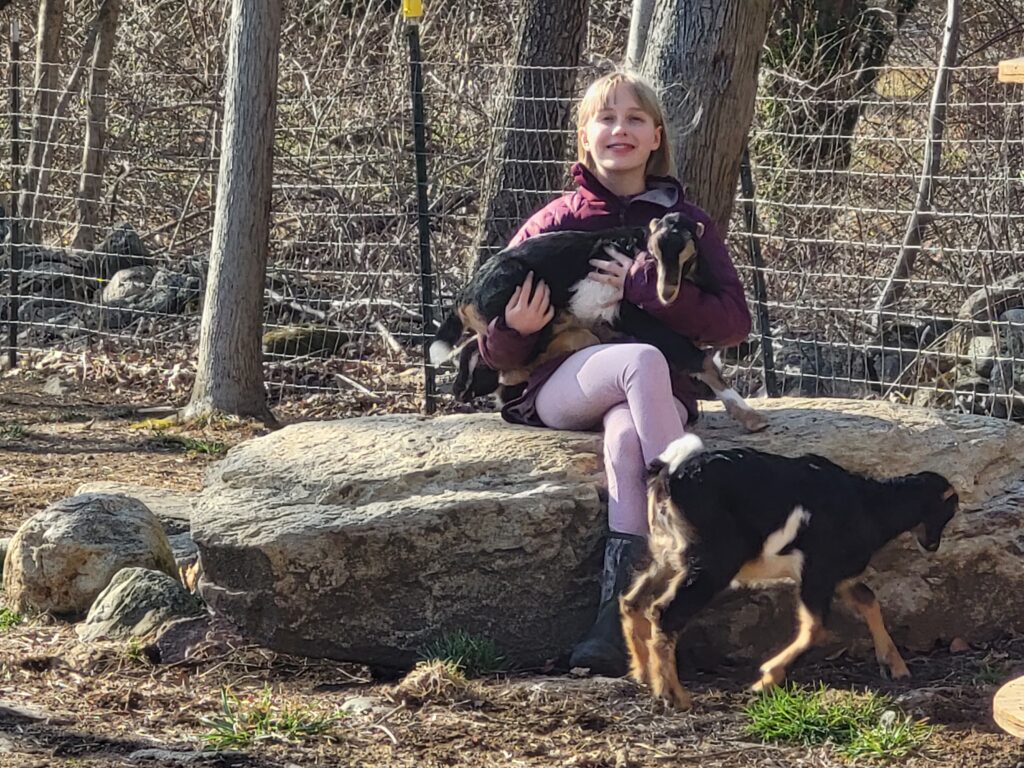 We now have 4 does in milk. 3 of them are first fresheners and 1 is an 8 year old. We have some really impressive udders in the barn right now, which is great to see, and we are getting almost 5 gallons of milk a day off the four goats.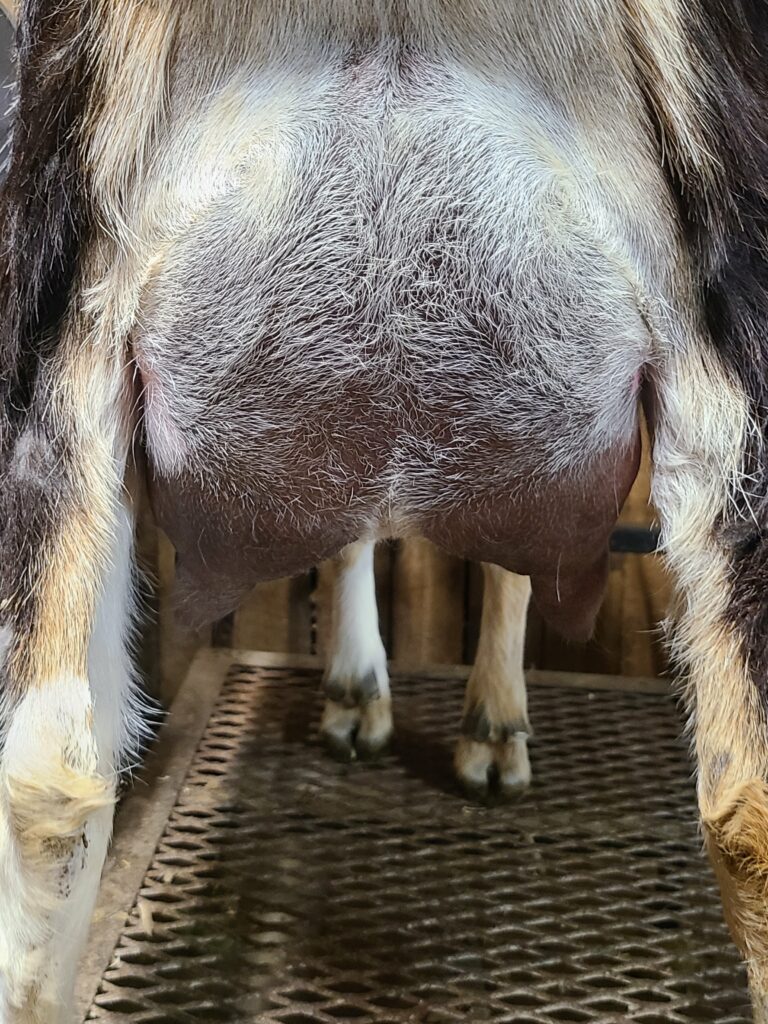 Quinn is taking a Horticulture and Design class at school that's actually a UCONN. This results in fresh floral arrangements regularly. Here is the one that came home most recently.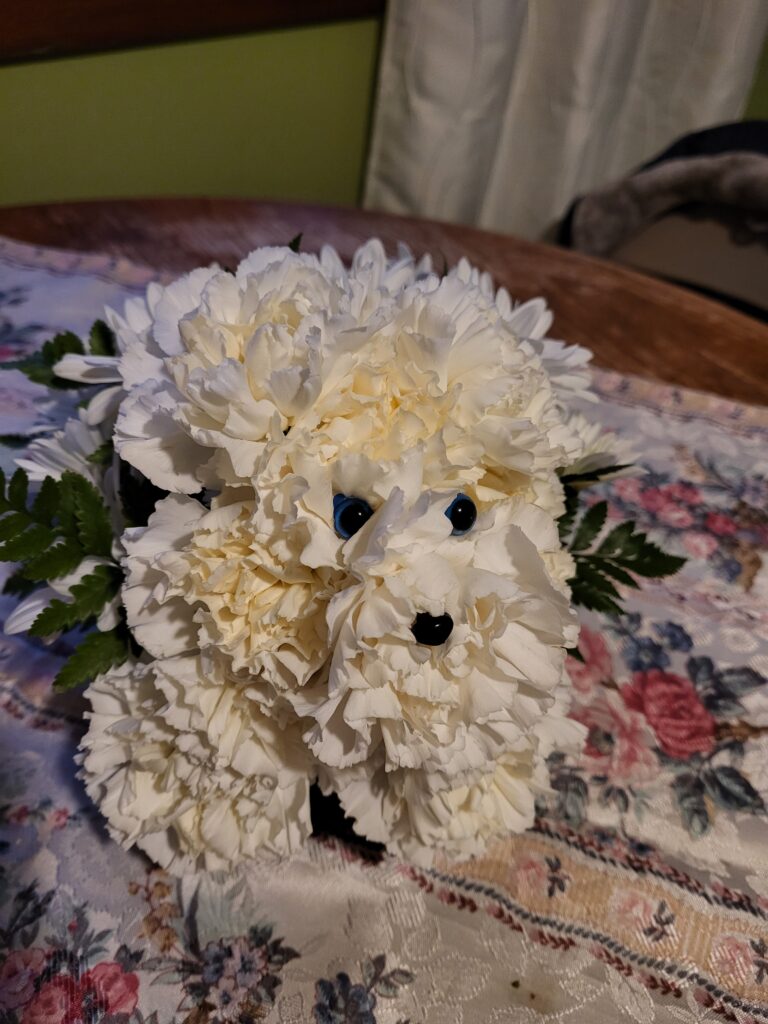 Anna has been working with Fiona almost every day. Her teddy bear dummy is the token rider for now, but that will be changing through April.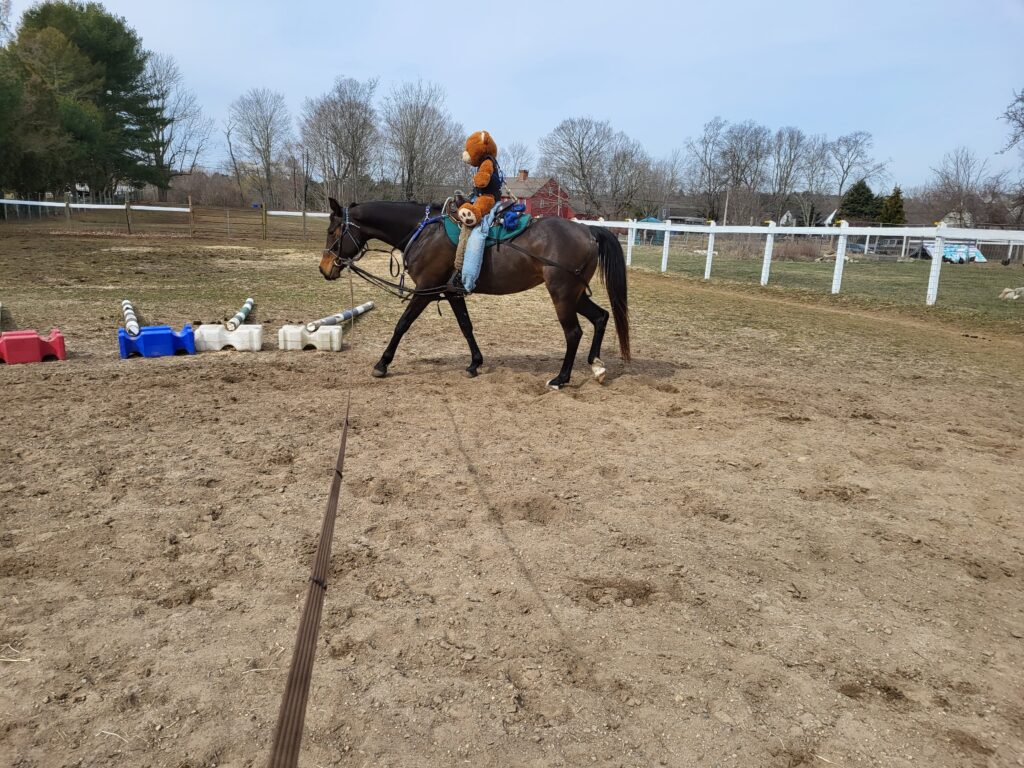 Temperatures hit 60F this afternoon, so we took the three big horses over to Arcadia for 11 miles of trail work. Anna rode Amira, Amanda rode Missy, and I rode Mojo.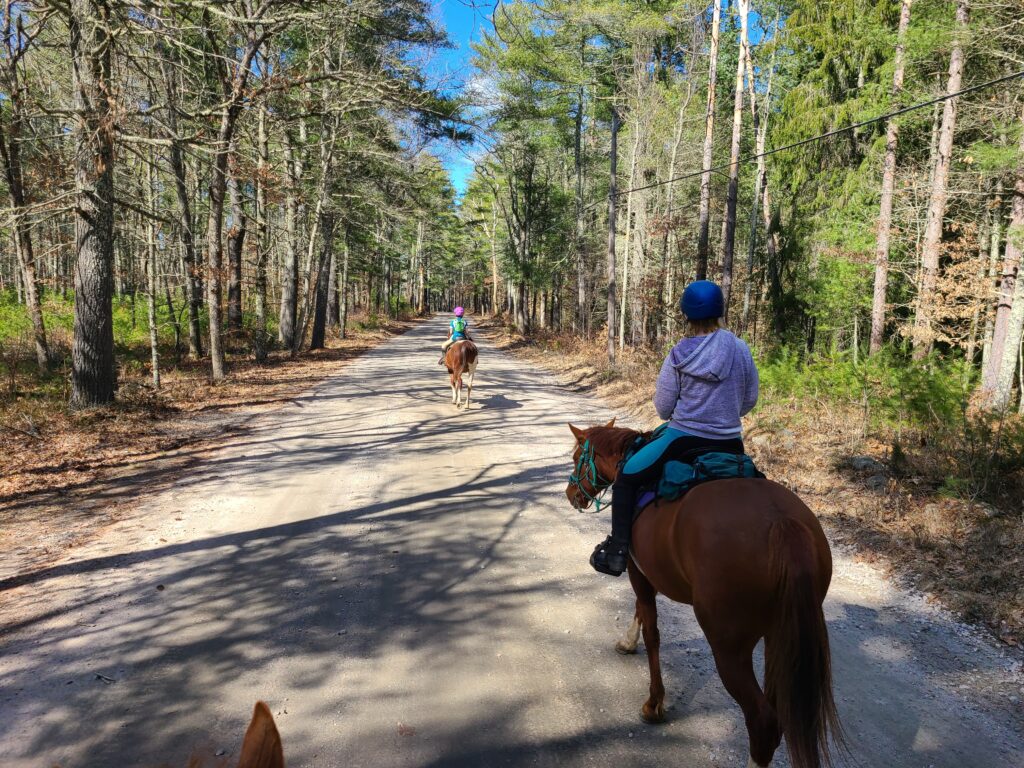 We have 6 weeks until our first competition of the season and 1 goat left to kid. Hopefully it won't be the end of April before we post next.