We have had NibbleNets in continuous use on our farm since 2012. After over 8 years of DAILY use by horses and goats, some of them are starting to wear out. Don't be fooled by imitations! The original NibbleNet is not a cheap product, but it definitely is worth the investment!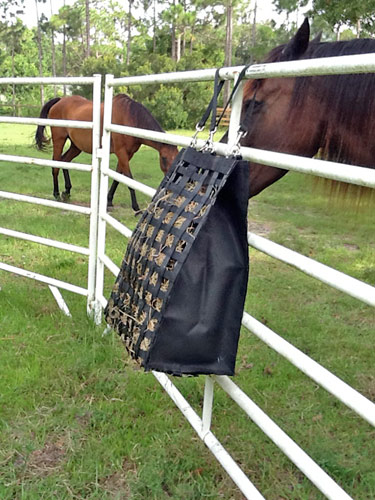 We will be placing an order for NibbleNets in early January.  If you would like to purchase one for yourself, please email me by Jan 10 with what you want and we will add it to the order.  The full list of choices is here. Our favorite and most versatile net is the 12″ DoubleNibble with 1.5″ openings on both sides.  

In return for your patronage, you will receive a 10% discount on all MSRP prices for the items you advance order.  You will not have to pay shipping, but CT Sales Tax does apply.  If you have any questions, please email or give me a call.
In case you missed it:
NibbleNets are a hay slow feeder designed to make it take your horse longer to consume their hay. This has a lot of benefits, including relieving boredom, improving digestion, and reducing waste. They work well whether you stall your horse at night or leave them turned out all the time. AND they are great as feeders for the side of your trailer. Don't be deterred by the price – they are worth every penny.
Feel free to share this offer with your friends.
We are also dealers for Uckele and can usually beat any online prices for supplements you may be feeding. Let me know if you want to compare prices.
Thanks,
Rob and Anna Sawyer
860-884-0110