Nothing gets me moving like registering for a race. I've been in a slump, so today, the whole family registered for the NY Adventure Endurance Ride. But there's a twist.
Last June, Teddy was diagnosed with Equine Protozoal Myeloencephalitis (EPM); you can learn about it here if you have never heard of it. . He was treated for a couple of months and has been recovering. The problem is, EPM never completely goes away. EPM is what eventually killed King after 2 years of treating it. Horses with EPM are at risk for relapses and stress is a trigger for such a relapse. Endurance rides are stressful (trailering, camping, racing/excitement on trail, trailering again, etc.). It is unlikely that Teddy will ever compete in an endurance ride again, but time will tell. Regardless, Alex has outgrown Teddy, so if Teddy does make it back to competition, it will probably be with Amanda.
With the weather in the upper 40s, it was a horse riding kind of day. This morning, Quinn took Eli out on the trails and Amanda got to tag along on Huey, they only did about 3.5 miles, but they they rode (together).
After lunch, Anna and Amanda took Amira and Teddy out for a 4.5 mile ride today. Teddy was sound and spunky. Amanda will ride anything.
But this is really about Ride and Tie. The NY Adventure Endurance ride is in late May and is likely the first opportunity for a ride we will have. With Teddy out of competition for now, we only have 4 horses for the 5 of us to ride at events. Enter, Ride and Tie. From www.rideandtie.org:
"The sport of Ride & Tie combines trail running, endurance riding, and most of all, strategy. The objective is to get all three team members (two humans and one horse) across a 20-100 mile cross-country course by alternating riding and running. One team member starts out running, the other starts on the horse and rides down the trail as far as they think their partner can run (or walk) and still keep up a decent pace. At that strategic point the rider stops, dismounts, ties the horse to a tree or fence post, and continues down the trail on foot. The team member who started on foot gets to the horse, unties it, mounts, and rides to catch their partner up ahead. When they get to their running team member they can either stop and exchange (which is called a "flying tie"), or ride further up the trail and tie the horse and then continue running. When, where, and how a team exchanges is up to them and this is where the strategy lies. Every trail runner has their strengths and weaknesses, and the same is true for horses. Factor all this, along with weather conditions and the topography of the course, and you can understand why Ride & Tie is as much mental as physical."
Ride and Tie events have been slowly making their way into New England and the NY Adventure Endurance ride is also sanctioned as a Ride and Tie event. This morning, Alex and I watched the AERC webinar about R&T and then discussed options about NY Adventure (there was a scenario where we could have borrowed a horse for the ride) to make sure Alex understood what was involved (I have been interested in R&T for a couple of years). Alex agreed, that using Mojo for a R&T sounded like more fun than a standard endurance ride. So this afternoon, we did our first training session.
We started with changing some of the riding attire to make it more comfortable for both riding and running. I previously switched to using my Altra trail running shoes for riding (we use caged stirrups), but Alex has been riding in paddock boots. Alex switched to a pair of Topo trail running shoes that I had that in the closet but didn't particularly like (since he is the same size shoe as me it was an easy trial). Alex elected to still use his breeches while I rode in my running tights (we both chose tri-shorts underneath). We saddled up Mojo in the Big Horn saddle. We chose the Big Horn because it has synthetic fenders that won't rub our legs, it has a tree and will be more stable with lots of mounting and dismounting, and it has a lot of places to tie off packs or other items. Another benefit of your son growing up is we are the same height, so our stirrup length is the same.
We started our training ride together, I was on Mojo and Alex was on foot. We went about 1/4 mile and then decided to try the first tie. Since we had never done this with Mojo, we weren't sure how he would react. Alex stopped just out of sight and I tied Mojo to a tree and then went down trail out of sight. Alex waited a minute and then went to Mojo, untied him, and mounted up. Mojo didn't care about being tied. We went anther half mile and then repeated, this time Alex executing the tie and heading off down the trail. Again, Mojo didn't care.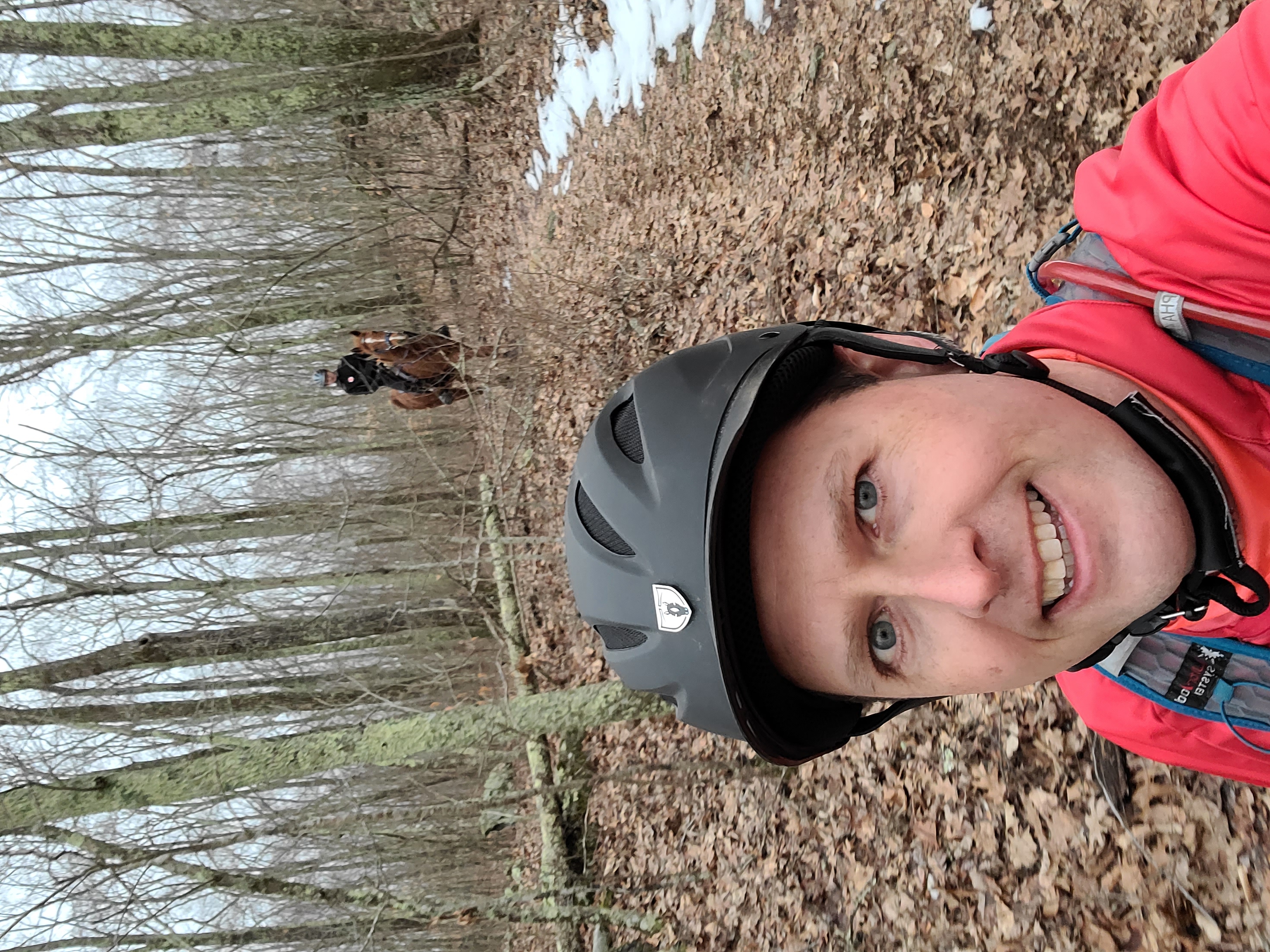 Next we decided to step it up a little. I rode away from Alex and cantered Mojo up a hill. At the top, I hopped off, tied Mojo, and took off running. Alex was within sight, about 100 yards away. We were on a more open section of trail roads and we were able to start moving at a faster pace. Alex rode about 3/4 mile, passing me along the way, tied Mojo and headed out to our turn around point.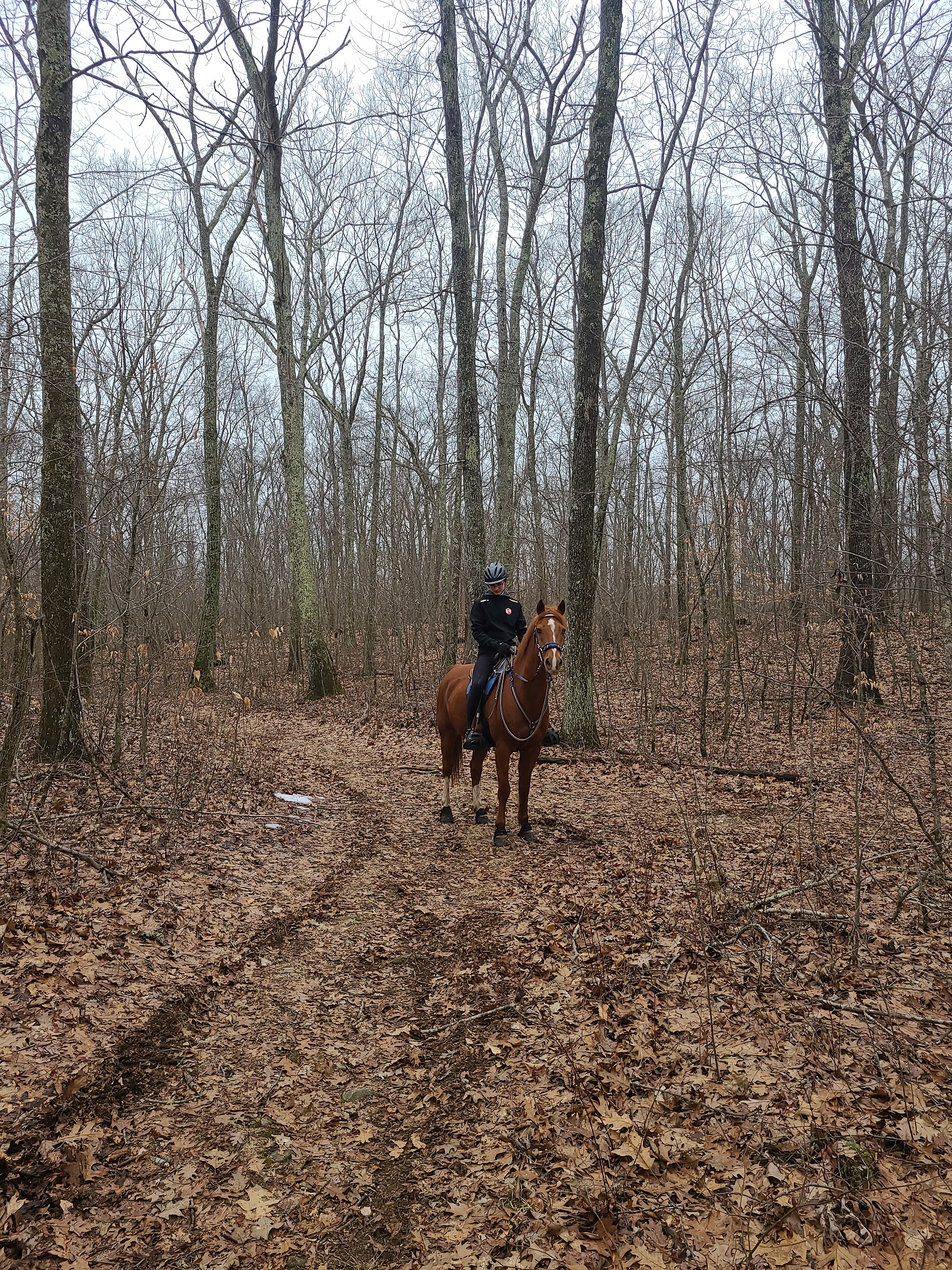 At the turnaround, we did a flying tie (just a hand off between riders) and then headed back. On the way home, we did 2 more ties. Unfortunately, after the last tie there was a miscommunication about the planned route home. I went the way we came out. Alex took an alternate trail. Since he never caught up to me, I got worried and back tracked. Eventually, I called the house to send Quinn out to the barn where they found Alex arriving. Clearly, better route communication is going to have to improve.
The day was an overwhelming success; Mojo was a rock star. We covered 5 miles, completed 6 ties and 1 flying tie. We did have some technical issues with the lead rope coming loose from how we tied it to the saddle between ties, so we need to work on our plan for how we will handle that. As we did more of the exchanges, Mojo seemed to figure out that he was supposed to chase down the runner. We also need to make sure Alex has his cell phone when we are out practicing R&T. We have 3 months to increase the running mileage and get ready. I'm looking forward to it.