Today was the West Greenwich Horseman's Association Turkey Trot at Goddard Park in RI.  I rode Mojo, Anna rode Amira, Vicki rode Duchess, and Amanda rode Huey.  Alex had another commitment for today, so Alexis joined us and rode Teddy.  We all enjoyed the crisp fall air and beautiful colors of fall.  The horses had a good time riding on the beach and were willing to go out into the water.
Anna and Alex did get a late evening ride on Friday.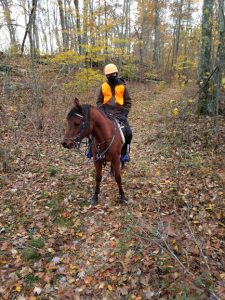 Anna has been enjoying some time out in the woods during the day, and even took Mojo and Rusty out earlier this week.