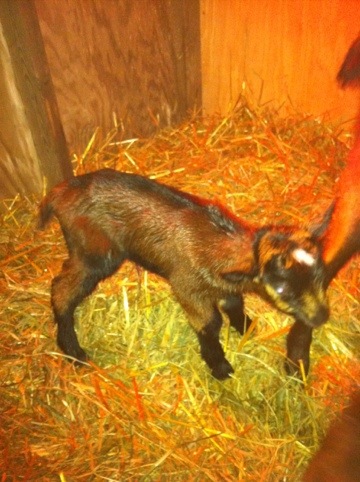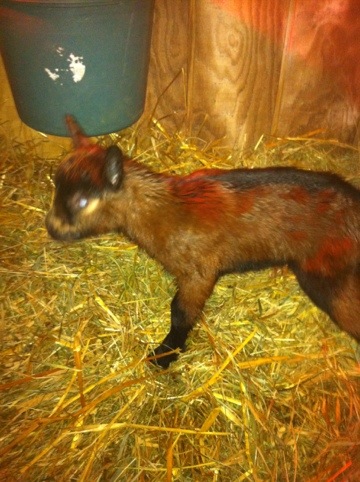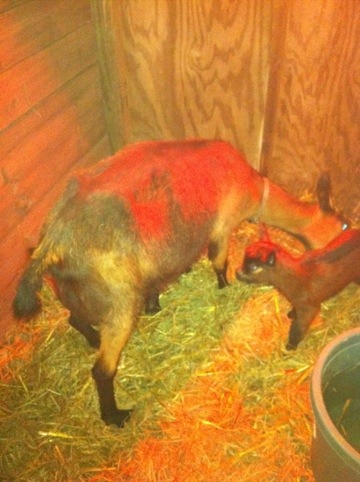 In January, we added Cedars of Lebanon Betty Ford (Betty) to our goat herd. We specifically bought her because she was due to kid before any of our other does, and therefore we would resume getting milk for the family sooner.
Today, Betty had twin doelings! Both are healthy and doing well. I'll take some better pictures tomorrow in the light. We haven't decided on names yet. The 2 legged kids have some ideas, but I am looking for a theme for the year.
But that's not all we did today. This morning it was snowing, and we were expecting to get about 2.5-3″ of accumulation. However, it warmed up and never even stuck to the roads. By the late afternoon, it was almost all melted.
I had another craigslist find for the weekend. I felt like I was in American Pickers when I went to a farm to look at some rabbit cages. I ended up buying a large double cage for growing young ones, a 16′ quad cage for whatever, 1 transport cage for rabbits, 2 transport cages for mid size animals (maybe young goats or pigs), and a 100 gal Rubbermaid water trough. I spent the afternoon working on one of the cages since we are getting more rabbits tomorrow.