Christmas this year was a small affair. No familiy visiting from out of town, and no where we had to be. On Christmas Eve, we joined the Smith's, owners of Cedars of Lebanon Farm, or their annual Christmas Eve brunch. It has become a holiday event we look forward to. The fact that their daughter Natalie is in culinary school and uses the brunch to showcase recipes doesn't hurt.
After we got home, Vicki set to work baking the cookies for Santa, sugar cookies with a pepermint glaze are the appropriate recipe.
That evening, we headed to North Stonington Congregational Church to see some old friends at the evening service, and then back home for a traditional Swedish dinner that Anna put together. We had meatballs with cranberry sauce (she couldn't find lingonberry jam locally), ham, potatoes, pickled herring, pickled salmon, and pickles. Afterwards, the kids got to open 1 present, plus their new pj's from Grandma and Grandpa. A fire in the fireplace seemed like a good idea, but as the evening progressed, the temperature outside climbed to almost 60F. Turbo joined us fo the reading of 'Twas the Night Before Christmas.
We told the kids before they went to bed, no presents would be opened on Christmas morning until the animals at had to been checked on and horses fed hay. The rest of the chores would be deferred to later in the morning.
At 7:30, the kids came into our room to wake us up. The horses had been fed their hay and Alex had actually completed all his morning chores. Vicki went to make a pot of coffee for us while we got ready to join them for presents.
After opening gifts, the kids got to play with their new toys. Since it was in the low 60s, Anna and I decided to head outside and spend 6 hours on a fencing project. We significantly collapsed the goat paddock and gave a most of the back property to the horses. By the time we came in well after dark, we were ready for a simple dinner of farm fresh eggs and bacon.
We were also surprised with a very nice gift from some friends and found the perfect spot for our new addition in the kitchen.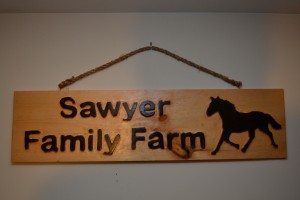 Today was spent loading hay in the barn, loading shavings, riding horses, and time at the gun range. Merry Christmas from our family to yours, and have a Happy New Year!