June 22 was the 2019 NEATO Endurance ride held in Arcadia WMA (Exeter, RI). Since the ride is less than 10 miles from our house, we always plan to attend. This year we had 3 entries for the 50 mile ride and 2 for the 25 mile ride. The weather was a little wet on Friday so I headed over to set up camp around lunch with Alex and Vicki and Anna and Amanda brought the horses a little later in the afternoon. Everyone vetted in just fine and we enjoyed the group dinner and ride brief. Since this ride is close to home, Anna went home for the night to take care of the horses who didn't attend the ride, plus the dogs, rabbits, and chickens. She joined us again at 5:30 Saturday morning.
Mojo enjoying some grass before vetting in

Amira and Huey having a snack

Huey and Duchess waiting their turn
This ride has a very gentlemanly start time of 7am for the 50 mile riders which had 27 entries. Anna had Amira and Huey tacked up just in case they got upset when the other 3 left. The temperature at the start was in the 60s and the weather was clear. I was a little concerned about Mojo having race brain and wanting to just run the entire first loop, but he was actually very manageable compared to last year.
Pre-ride pic

Waiting for the start

You can lead a horse to water…

Headed out for the first 20 miles

Headed out to log some miles

The purple pair

Moving along the road

No, she's not texting. She is eating a snack
The first loop for Alex, Vicki, and I was 20 miles. There was a mandatory 10 minute stop at about the 9 mile point, which we used to give the horses some grain and water (and people got a bathroom break). There was one section of trail that goes down into a low elevation and heavy forest area. As the temperatures were rising and the previous day's rain was baking off, the humidity spiked. There was also a lot of mountain laurel on the first loop that was in full bloom and very pretty, but I didn't take a picture. Since it was a first 50 for both kid pairs, Alex on Teddy and Vicki on Duchess, we were riding conservatively to try and get completions for everyone. Unfortunately, as we were trotting along about mile 15, I noticed Duchess was a little off on her right hind. We have been working on the kids continuously eating in order to avoid meltdowns from lack of fuel. Each kid has figured out what fuels work for them and things went well on the first 20 miles.
Meanwhile, Amanda and Anna started their 25 mile ride at 7:45 with a 15 mile loop. Everything went well and both horses got along fine without the rest of the herd. Amira has really gotten strong as a leader on the trail and doesn't rely on the other horses for confidence. Amanda kept asking to canter in order to pick up the pace (and apparently the cantering sections were the best part). Throughout the ride, Amira didn't balk at any bridge crossing or trail entrances. Both Huey and Amira did a great job of eating consistently and drinking at the water stops. Anna and Amanda made it back to the vet check and 45 minute hold about 20 minutes before those of us on the other loop.
Huey getting his pulse checked at the hold

Amanda does her own trot-outs with Huey

Alex and Teddy at the vet check
Unfortunately, the lameness we noticed on the trails caused Duchess to get pulled from the ride after the first 20 miles. Vicki was disappointed but took it well. She took care of Duchess at our camping area while the rest of us were out for our next loop. Anna and Amanda had 10 miles to go while Alex and I had 2 more 15 mile loops to do. I'm proud of the fact that we have kids who know enough about their horses that they can take care of them in ride camp even if Anna and I are not available. Of course, there are plenty of other adults around that will help out if needed, but Vicki had everything under control with her pony.
Second loop

Rain on the horizon
The second (and last loop) for Anna and Amanda went well. Amanda did start to run out of steam towards the end and they spent some time walking because her legs "felt like Jello." They made it back to camp and passed the final vet check. Their ride time of 4:52 was good enough for a 12th place tie and got the Turtle award. In endurance, the Turtle is the last finisher who still gets a completion. It's important to manage your horse so they pass the final vet check as "fit to continue". If you fail the final vet check, you are disqualified and don't get credit for the miles. In the end, only 1 horse in the 25 mile ride was pulled, 13 of 14 completed.
The second and third loops for Alex and I were fairly uneventful. We knew a number of riders had been pulled at the first vet check (including Vicki) and we were bringing up the rear of the ride. That didn't bother us in the least. Alex in particular doesn't have a competitive drive and just loves to spend time on the trails with Teddy. Mojo started to lose some steam around 40 miles, so Teddy would take the lead. At mile 45, Teddy picked up a strong canter like he was fresh out of the barn. Throughout the day, Teddy did great and I love to watch Alex with him. We made our way back into camp only about 5 minutes behind the next rider ahead of us. Both horses passed their vet check and we got our Turtle awards for the 50 miles with a ride time of 9:39. 20 of 27 riders completed the 50 mile ride. At this point, I can't imagine doing a 100 mile ride, because I was wiped out after about 10 hours in the saddle. We took a break to eat some food and then packed up camp to head home.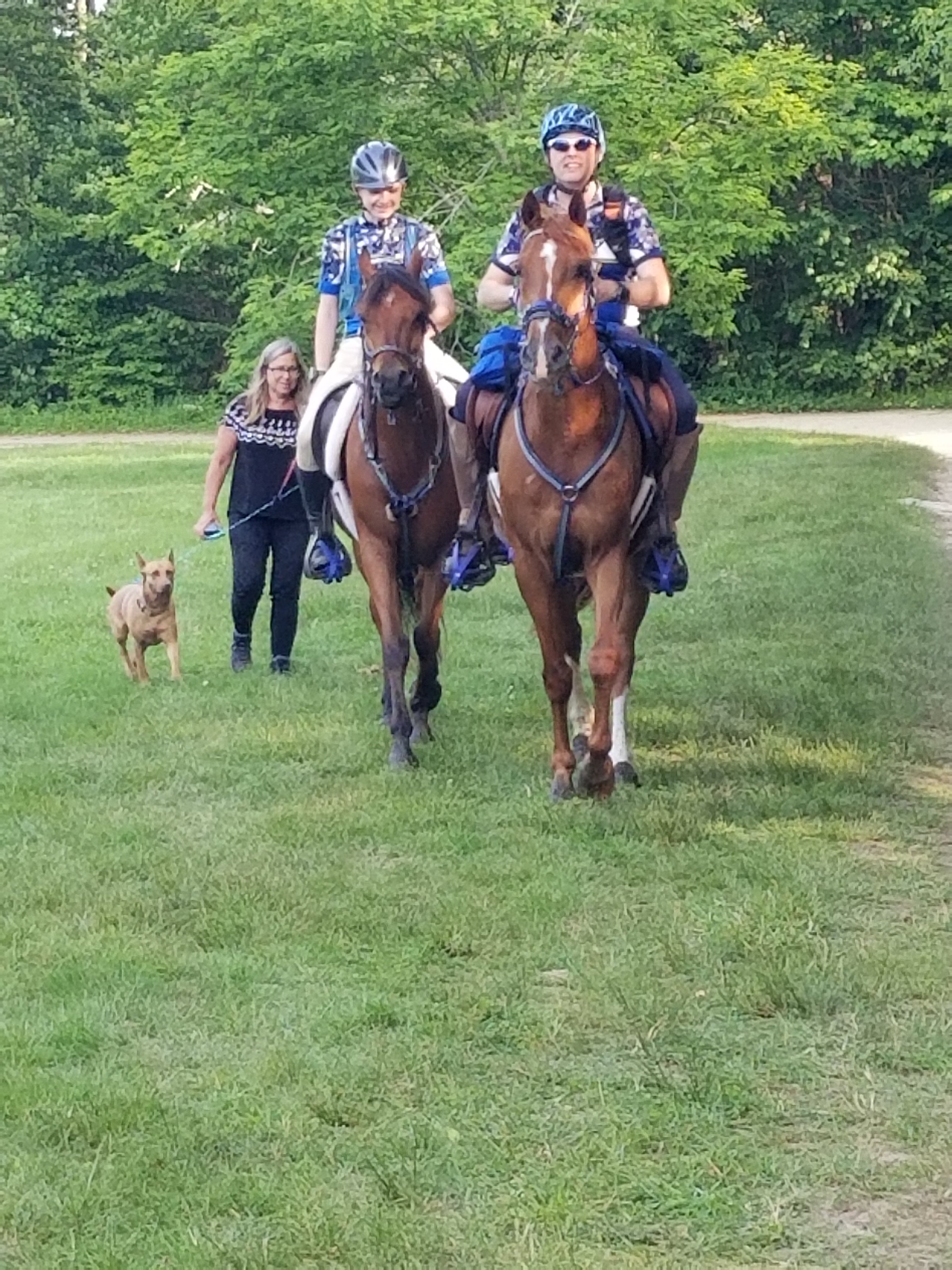 Do you know how to tell if the kids are legitimately enjoying the rides and endurance events? After riding all day, with some chaffing, sore muscles, and just plain exhaustion, the ride home still includes discussions (prompted by the kids) about the next event on the schedule. Not only that, there were conversations about altering training plans and what needs to improve for the next ride. To finish is to win.