Hydration during a distance ride is important for both the horse and rider. There are a lot of ways to carry water for the rider and we have tried many of them. Let's consider some of the choices.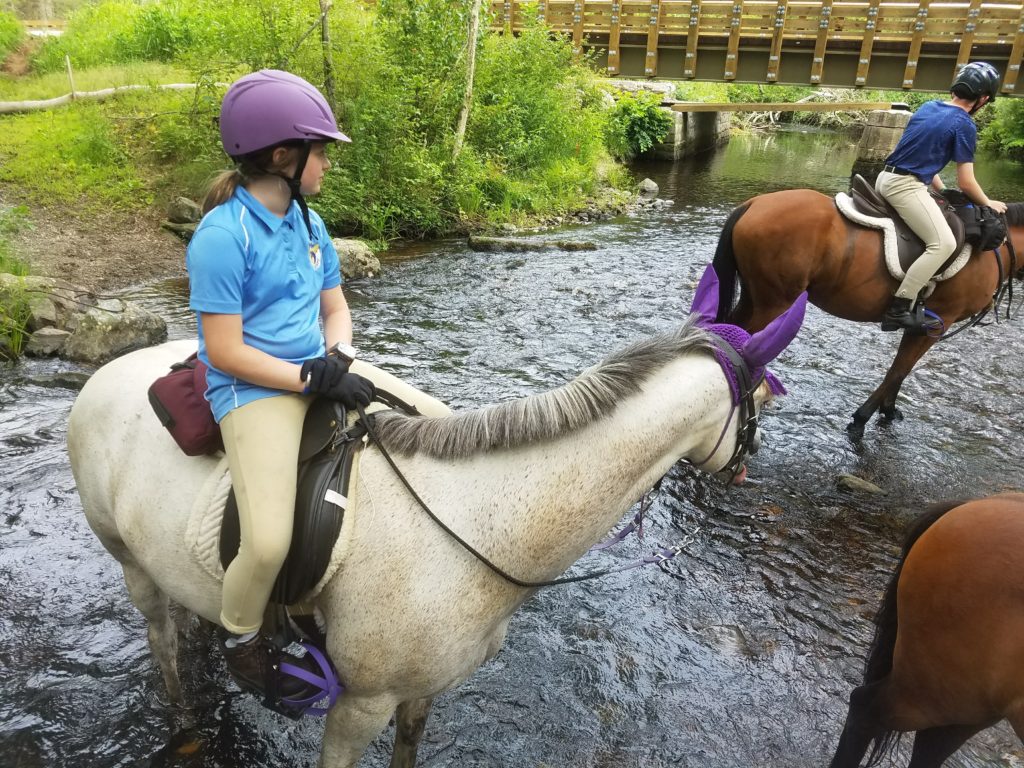 In the picture above, Vicki has a cantle pack on the back of her saddle with Duchess. The pack allows for 2 water bottles and a storage in the middle for snacks. Vicki liked this setup because she could have 1 bottle of water and 1 bottle with Hammer Nutrition Caffe Latte in the other. The downside of a cantle pack is you have to swing your leg over it every time you mount. Additionally, if the water bottle bounces out, you may not notice until it's long gone. Yes, it's convenient to have that extra storage, but getting into a zipper pocket directly behind you can be troublesome and sometimes these packs result in rubs on the horse's back.
In the same picture, Alex is riding Teddy with a pommel pack. Pommel packs offer the same arrangement as a cantle pack, but in front of the saddle, and frequently with more pockets and storage than the cantle pack options. This is actually one of the few pictures of Teddy in a pommel pack. One of the downsides of a pommel pack is they can flap against the horse. Depending on the horse, this can be problematic. In Teddy's case, the flapping causes him to go faster, which causes more flapping, which causes him to go faster. As you can guess, this is not a good thing with an Arabian hyped up to ride long and hard. To be clear, some horses can be trained out of this type of behavior, but since Alex was 14 at the time, we elected to change the way Alex carried his water.
When it was time to try a new option for Alex, he tried on my Nathan hydration pack for running and has never given it back. The pack has a water bladder that holds 1.75L and has small pockets on the front for snacks. The pack has enough adjustment to allow him to wear it in summer or winter, over a heavy coat. To be honest, I didn't have a problem giving up that pack to Alex. While it has some nice adjustment options, I didn't really like how low it sat on my back and I couldn't quite carry as much as I wanted for my phone, snacks, etc.
Amanda rides with a kid's Camelback. While Camelback is known for producing hiking packs vs running packs, they are one of the few companies that makes a kid version. The gives her 1L of water, but all the storage is on the back. Therefore, she has a very small pommel pack on her saddle to hold the snacks.
A few years ago, I came across the Orange Mud packs. The first one I started with was the Gear Vest. It holds 1L of water and has some pockets on the front for phone, snacks, etc. What I really liked about it was it sits a lot higher on my back and doesn't hold in the heat on my lower back. Unfortunately, Anna decided she liked it too and claimed it as her own. The main things she likes are the pack is lightweight, it sits up high on her back, and the straps don't rub her boobs. Heavier packs put too much weight on her shoulders after hours of trotting.
Anna's theft of my first Orange Mud pack resulted in the purchase of an Orange Mud Endurance pack that holds 2L, which I use regularly for both running and riding. Today, Vicki decided to try it out and "didn't hate it." The reason Vicki decided to shift to a hydration pack instead of cantle pack was because she didn't want to take a chance on how Eli would react to a flapping pack against his side. It may be time to buy another Orange Mud pack. (If you are considering getting an Orange Mud pack, email me for a discount code – I'm on their Ambassador team, the Dirt Unit).
I have another hydration pack that I use for running and for riding. This one is an UltrAspire Alpha 4.0. This pack holds 2L of water and is more form-fitting than any of the other packs I have used. I alternate back and forth between the UltrAspire and Orange Mud pack. I love how the UltrAspire fits and distributes the weight. I also really like how the storage pockets are distributed, but it does sit lower on my back and holds heat that the Orange Mud pack eliminates.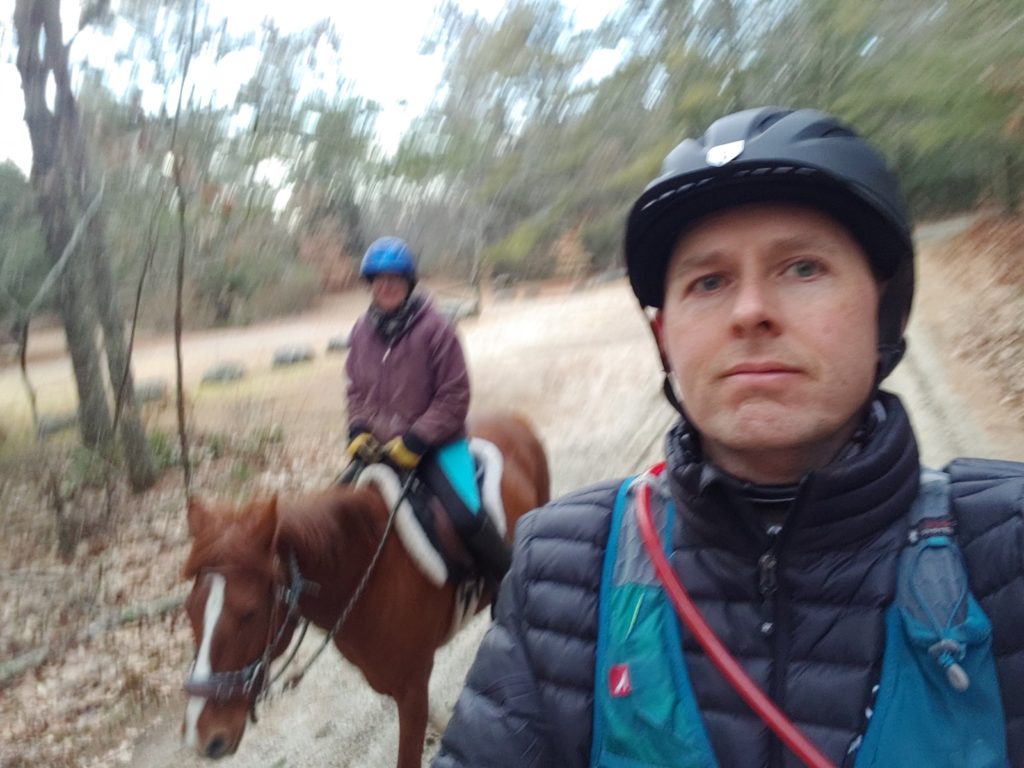 There are 3 reasons I prefer the hydration packs to cantle or pommel packs. The first, I am convinced riders drink better (more frequent, small sips) when there is a hydration bladder hose to drink from vs a water bottle to pull out of a saddle mounted pack and it doesn't require slowing the horse to a walk for even new users of a pack. Second, carrying the weight on the rider instead of the horse makes you more attentive to what you are carrying, and less likely to carry unneeded supplies. Finally, by carrying the water in a pack, the rider can hydrate at holds and vet checks. If you are looking for a hydration pack, start by checking out local running stores or an REI.