80+F on Easter?  In CT? That is definitely horse riding weather. After doing a few small projects around the farm this morning, the family went on an afternoon trail ride from home.  We only rode for about 5 miles in 1:20, but there were some important lessons learned.
Amanda is building her confidence and endurance in the saddle on the trails.  She did the whole ride today without any leadline assistance, including 4 small water crossings which are usually a challenge for her on Huey.  She didn't have any problem handling the trotting.
Vicki rode Duchess.  This is only her second time out on the trails with Duchess and they are making progress.  Today she rode in a bitless bridle and that definitely helped.  It's definitely different having a mare back in the herd.  Duchess isn't completely comfortable with all the boys yet and she will threaten to kick or bite any horse that enters her space.  Unfortunately, there were a lot of motorcycles out today as well and in the first encounter, Huey ended up too close and Duchess kicked him, hitting Amanda's foot.  It didn't actually hurt Amanda, just scared her.  That also rattled Vicki a little.  Later in the ride, Duchess threatened to kick Dakota when he rode up too close on her butt and it made Vicki really upset.  She decided to get off and walk for a while (about a half mile) and then mounted back up when she had calmed down.  While it may not seem like much, it was an important lesson for Vicki about backing off when her emotions run too high and calming down to handle the situation.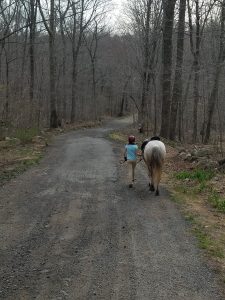 Overall, the ride was a success.  No one got thrown.  No one got hurt.
When we got back home, Vicki stayed on Duchess and joined Mojo and I in the front pasture for a little jumping.  This was the first time Vicki has gotten to taken Duchess over anything other than ground poles.  We didn't work too long and we kept everything low, but they did very well together.  Vicki has learned to control her canter speed and in the bitless bridle, they seem to be getting along better.  I didn't have much opportunity to take pictures because I was jumping Mojo (who was a rock star!) but I did shoot a short video clip of Vicki trying a simple approach at the canter.  Despite the challenges on the trail, after over 2 hours of saddle time, she was all smiles as we headed in to the barn.