This afternoon as I was working outside, I heard screaming coming from the barn.  It was Anna yelling "Rob!  Rob!  Rob!"  I assumed she found a snake sunning in the spring sunshine, but since she had just finished riding King and was in the barn with him, it could have been something more serious, so I trotted over.  She had Frosty (West View Frosted Love) coming down the aisle of the barn, with Onyx following and King in cross ties.  Maybe the goats got through the fence?
It turns out Frosty was in labor.  Frosty didn't settle right away last fall, so we let her live with Apache for a while.  Therefore, we were not exactly sure of the breeding date.  I guess now we know it was 5 months ago from today.
So, we parked Frosty in the kidding stall, caught Oynx and put her back out with the other goats, and turned out King.  Then we went about the other projects planned for the afternoon.  Checking on Frosty later, we saw she was actually in delivery, but when we stepped into the kidding stall, we discovered the first kid was already out and on the ground.  It was a tiny little buckling that weighed in at 2.5 lbs.  That is Anna's hand for size comparison.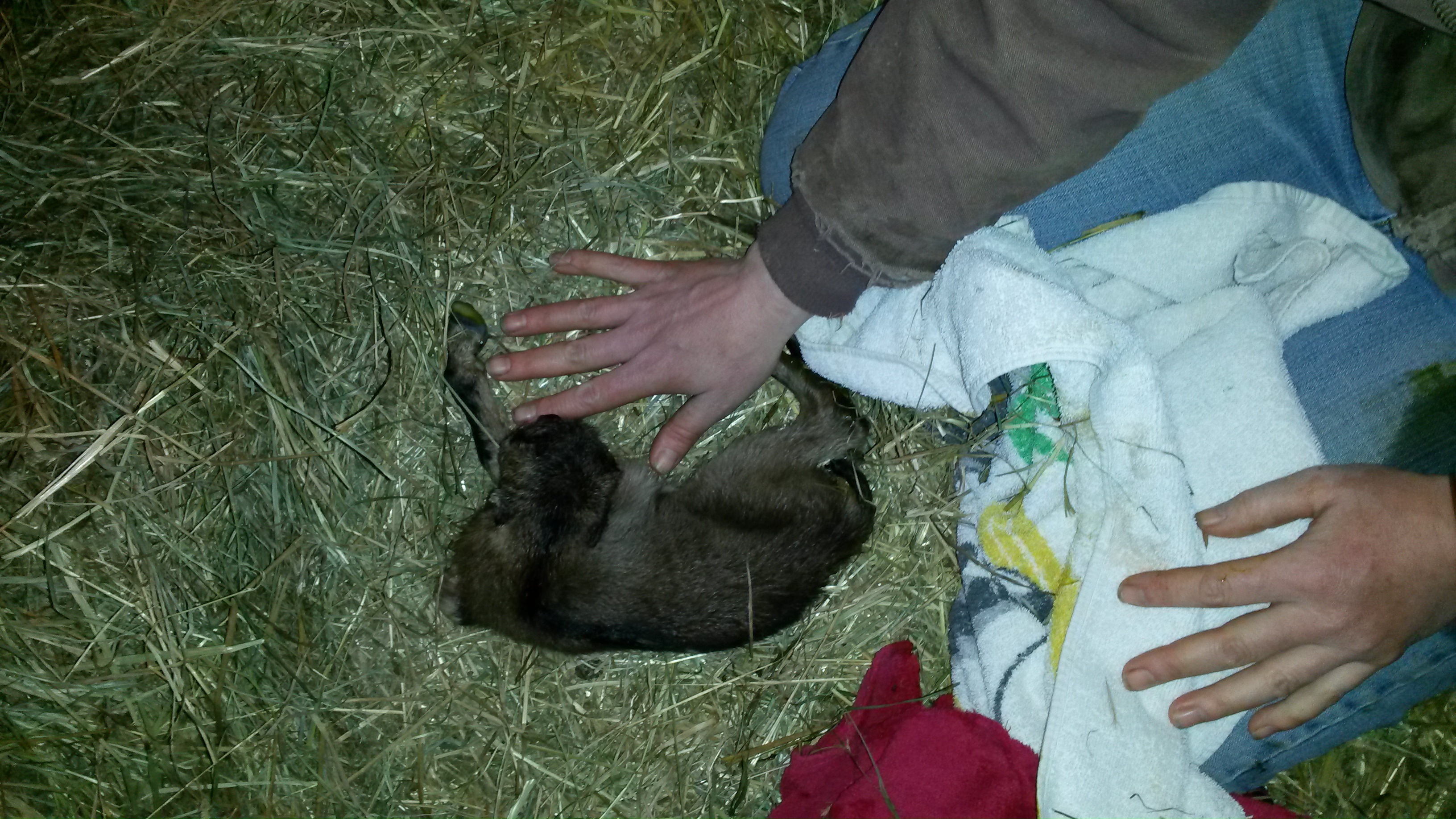 Anna and Vicki left for dog training with Turbo.  Luckily, Frosty kids easily and didn't need help.  She had 2 more bucklings, each weighing in a 5 lbs.
Since the runt wasn't standing as fast as his brothers and would likely get less teat time, against my objections, Vicki and Anna decided to move him inside and make him a bottle baby.  Apparently they are of the opinion we are keeping him.  I'm not convinced, but I have a feeling I will lose on that discussion too.
So, for now, Hazelnut is living in a dog crate in the house.  Mack doesn't seem to care.  Vicki and Amanda are excited – for now.
Final tally for kidding season: 6 goats freshened giving us 1 single, 4 twins, and 1 triplet with 8 bucklings and 4 doelings.