This past weekend was very busy BEFORE we needed to prep for a hurricane.  Saturday was working to set up at a horse show, Saturday evening we took the kids and friends to the Haunted Submarine at Nautilus and activities on Base.  Sunday was spent working at the horse show.  By the time I got home to help Anna get working on storm preps, it was 3:30.
We got the turkeys moved into our mobile coop and housed under the deck.  They will be off pasture until after the storm.  Anna and the kids did general clean up of loose items around the farm.  Extra wind break boards were added to some rabbit cages.  The horses were all put into their stalls with the doors to the paddocks left open (they are normally left outside all night).  We have about 600 gal of water for the livestock, the big and little tractor are full of fuel, we have lots of spare gas and diesel, and plenty of food to last a few months.
So, around 9:30, we declared the preps as good as they would get and settled in for a movie.
So far, the rain hasn't been too bad, but the wind is definitely going to take a toll.  We just came in from the first round of animal checks, topping off water buckets, adding hay, etc.  While we were outside, the wind destroyed the Shelter Logic 12'x24′ that we use for the Kubota.  I could tell it wouldn't make it through the storm, and took the tractor out only 5 minutes before the shelter gave in.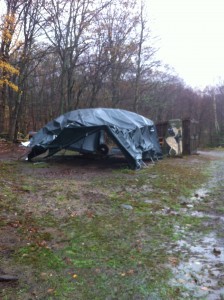 We also saw a 15″ oak tree snap off while we working in the horse barn.  There are a number of limbs down around the property, but so far, none on the fences.  There is a birch that I do not expect to survive the storm which will likely take out a post and 2 sections of fence.  We will do another quick round right before dark, but, I doubt we will still have power at that point.  More updates to follow.
4:45 – I occasionally hear a shotgun type blast outside.  It is the sound of another tree snapping.