This morning I finally returned to a triathlon after 3 seasons of no races.  I chose the Mystic YMCA Sprint for my return since that is where I did my first Tri in 2010.  The weather predictions for today were rain and storms, so I almost decided yesterday not to go.  However, Anna said "you paid for the entry, you better get up and do the race."
When I got up at 5 this morning, the weather looked like we would have a nice clearing in the rain.  In fact, there was only a 10% chance of rain during the racing time frame.  When I last did the race in 2012, there were 169 people at the race.  Not large, but the venue is small so it can get crowded and parking is tight.   When I arrived just after 6, it was definitely not crowded.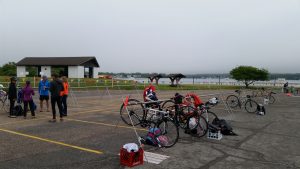 I got a great surprise this morning that my friend Natalie Edwards decided that she would come and race as well.  Natalie and I used to do a lot of cycling together and ran tris together in the past.  Yesterday, Natalie did an Olympic distance race at the Rev3 Quassy and placed 11/46 in her age group.  That race had 799 racers.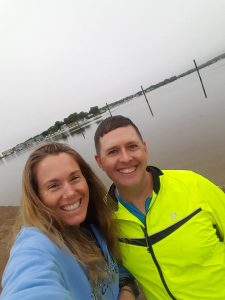 The water was calm and probably in the mid 60s.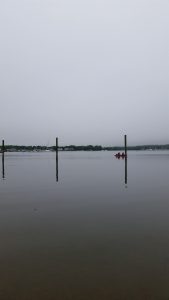 My entire goal for the day was to complete the race.  I knew I was not nearly as fit as in years past, but I was sure I could complete the 867m swim, 14 mile bike, and 3 mile run.  It did start to lightly rain during the swim and continued through  the bike, but with air temperature in the upper 60s, it was a great morning to race.  In the end, the much smaller field of only 106 competitors meant my overall time of 1:34 was sufficient for 3rd place in my age group and I got a gift certificate to Mystic Cycle Center.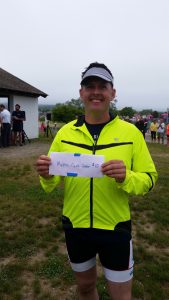 I am really glad that I signed up for the race and I am looking forward to spending more time on my bike this summer (my weakest performance of the three phases today).  Natalie ended up finishing as the 5th overall female and 2nd in her age group!