Our blog has been rather quiet lately because I have been trying to figure out what, it anything,  to write about things that have been going on. I finally think I know how I want to say, what I want to say.
We generally try to keep our blog posts focused on the positive things in life, but that leaves out a lot of other things. On Nov 1, we rode in the Ayer Mt Hunter Pace and that was our last post. The aspect of that story that was understated was how bad the ride really was for Misti and I. While not every ride on a horse is the always rewarding,  there are only a few that stand out as truly horrible. Ayer Mt was horrible on top of Misti (the rest of the family had a great time). In fact, it was so bad, we were ready to just get rid of Misti and give up on her. We even started down the path of finding her a new home.
However,  by Wednesday of that week, we had calmed down and decided to try and figure out some possible medical causes of the situation.  Since we already had the vet coming that week,  we added Misti to the list of patients to be seen.
In June 2012, Devil had surgery to remove some cancer. Dr. Anne Schwartz of Tri State Equine Surgical Specialists performed the surgery with Dr. Cara Knesser doing to the anesthesia. It had been about 2.5 years since Dr. Schwartz had seen Devil, so we had her out for a follow up. The very good news is Devil is doing great and there are no additional treatments planned for him.
King has been with us for 13 years. At 21 years old, he was starting to show some weakness in his hind end, so we wanted to investigate if joint injections might hell him out. Dr. Schwartz did an exam and concluded, yes, he would probably benefit from hock injections. However, during the exam, she honed in on a number of neurological symptoms that we hadn't picked up on. After some blood work to confirm her suspicions, it was determined King has both Lyme and EPM. Here is a good reference for any of our friends who want to know more about EPM. King has been started on Marquis to treat the EPM and we are hopeful that he will have a full reversal of all symptoms, as is common in 60-70% of horses. After the EPM is treated (which will likely take 2 months), we will deal with the Lyme treatments. Then the hock injections. King also had an episode of choke recently which got him an after hours visit from Dr. Ennis for a tube down his throat.
And that brings us back to Misti. Anna and I suspected Lyme and ulcers both as possible causes of her behavior. It turns out, we were right. She has both. She is almost done with her 2 weeks of IV oxytetracycline for the Lyme treatment and she was just started on her Gastrogard for the ulcers. Dr. Schwartz used a scope to confirm the ulcers. Dr. Knesser was also present to participate in the procedure (and she just loves to come to our farm).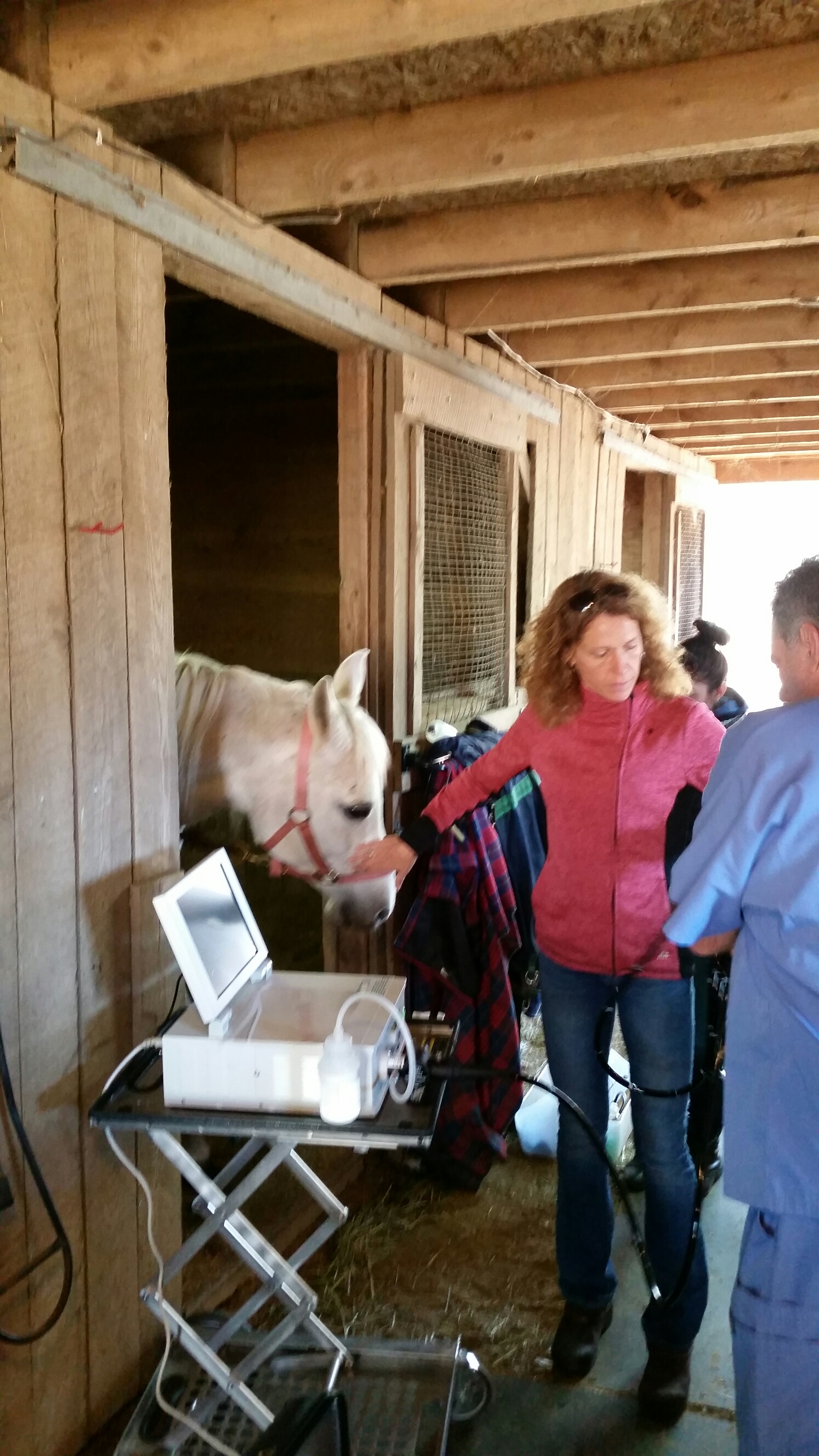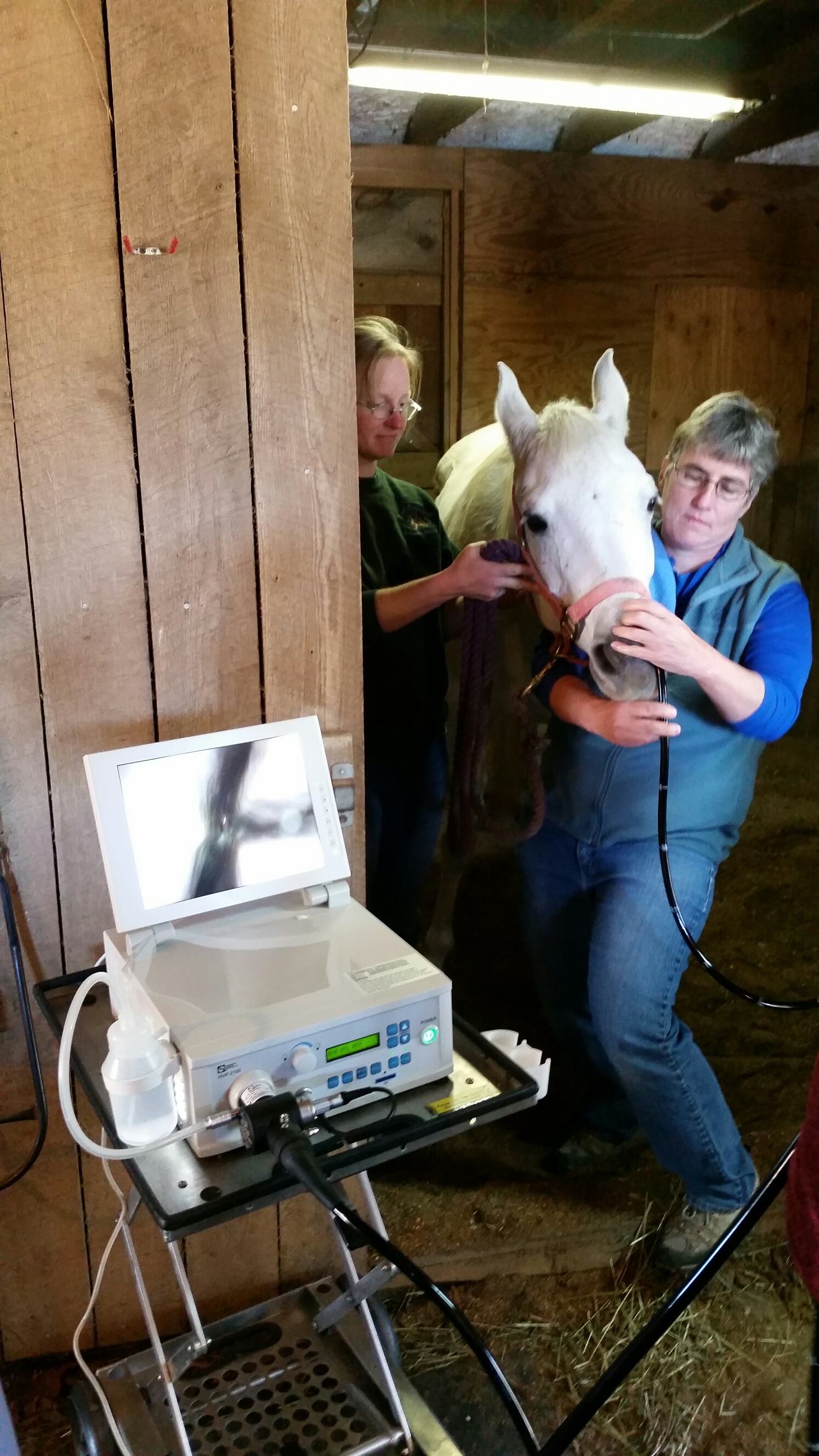 Since we are already dealing with treating Misti for ulcers, we decided to go ahead and treat Huey too, but went with symptom diagnosis instead of a full scoping. We are going to get past all the treatments for Misti, and then see where we are with behavior issues and figure out the way forward.
As anyone with animals knows, vet bills are not cheap. In fact, we have almost spent more on horse vets this month than the combined purchase price of all our horses. This is why I cringe when people want to own a horse, but can't afford to purchase one. The purchase price isn't what you should be worried about.
So all of that information simply brings me to the point on this Thanksgiving Day. I'm not thankful for the vet bills. But I am thankful for a family where everyone agrees, we will treat the horses. There haven't been any arguments about wasting money or "your hobby" like I know many owners deal with. Horses are a family affair for us. I'm thankful to have the horses at home which greatly simplifies all the treatments. But most of all, I'm thankful for both my Navy job and my hoof care business that allow us to be able to buy the medicine our horses need and pay the vets to treat them.
Happy Thanksgiving to all our friends and family. Love what you have.