Last week we made our annual trek to Fryebrug, Maine for the Pine Tree Pioneer Endurance ride. The event is held at the Fryeburg Fairgrounds and includes 5 consecutive days of endurance rides. 2 of our kids had their first endurance rides at this event in the past, so this is a special event for our family and is the big "vacation" before school starts. This is a long post, but here are some stats up front:
11 starts and 11 completions
325 miles of competition (all 4 of our horses rode 75 miles and we borrowed 1 horse for 25 miles)
61 hours and 16 minutes of saddle time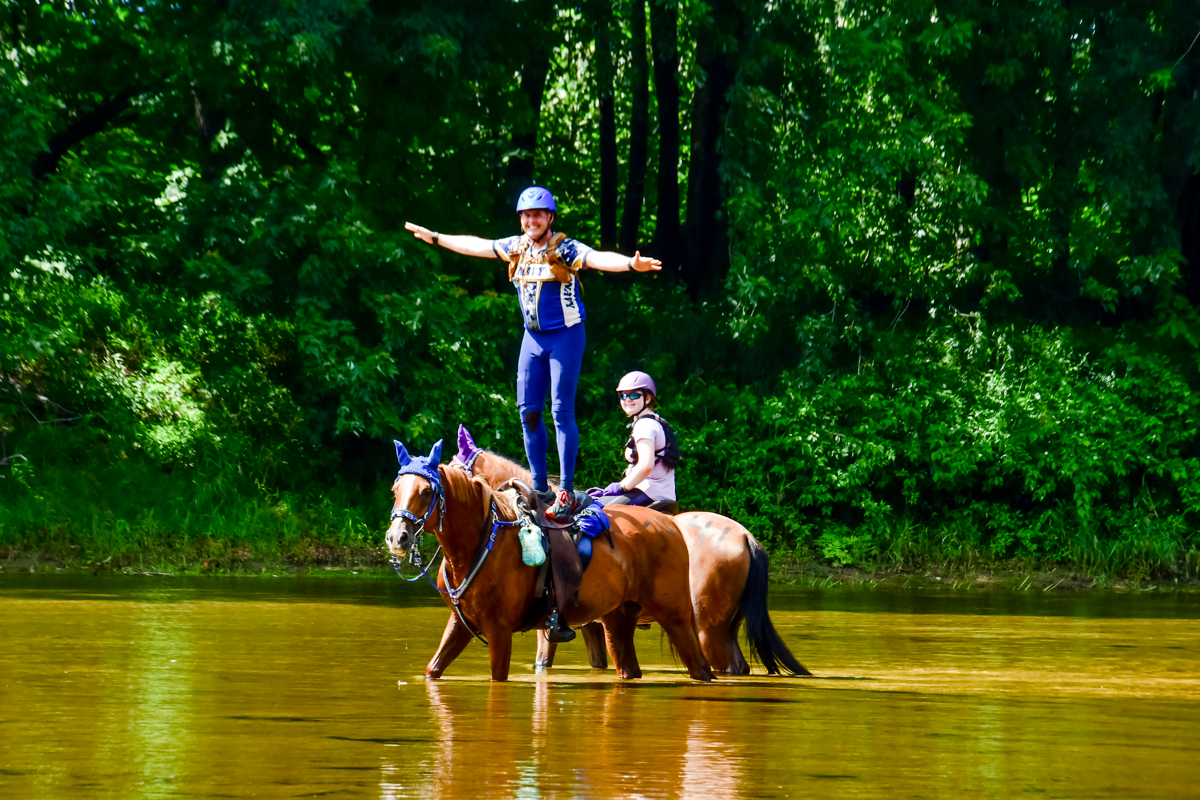 Some of the photo in this post were purchased from Wanda Clowater. You can see all her ride photos on her website at http://www.clowaterart.com/. Support your ride photographers and buy the images you want to share on social media!
My parents left Alabama on Friday and got to our house late Saturday evening. This is the 3rd time they have driven their travel trailer up from Alabama to join us for a week in Maine. We hit the road Sunday morning about 7:30 and made it into ride camp at the Fryeburg Fairgrounds at 12:30. We were able to get the horse pens set up and camp established by mid afternoon. Monday was a day off, so we went for a 3 hour float down the Saco River.
Monday evening, we vetted in the horses and tried to get some sleep.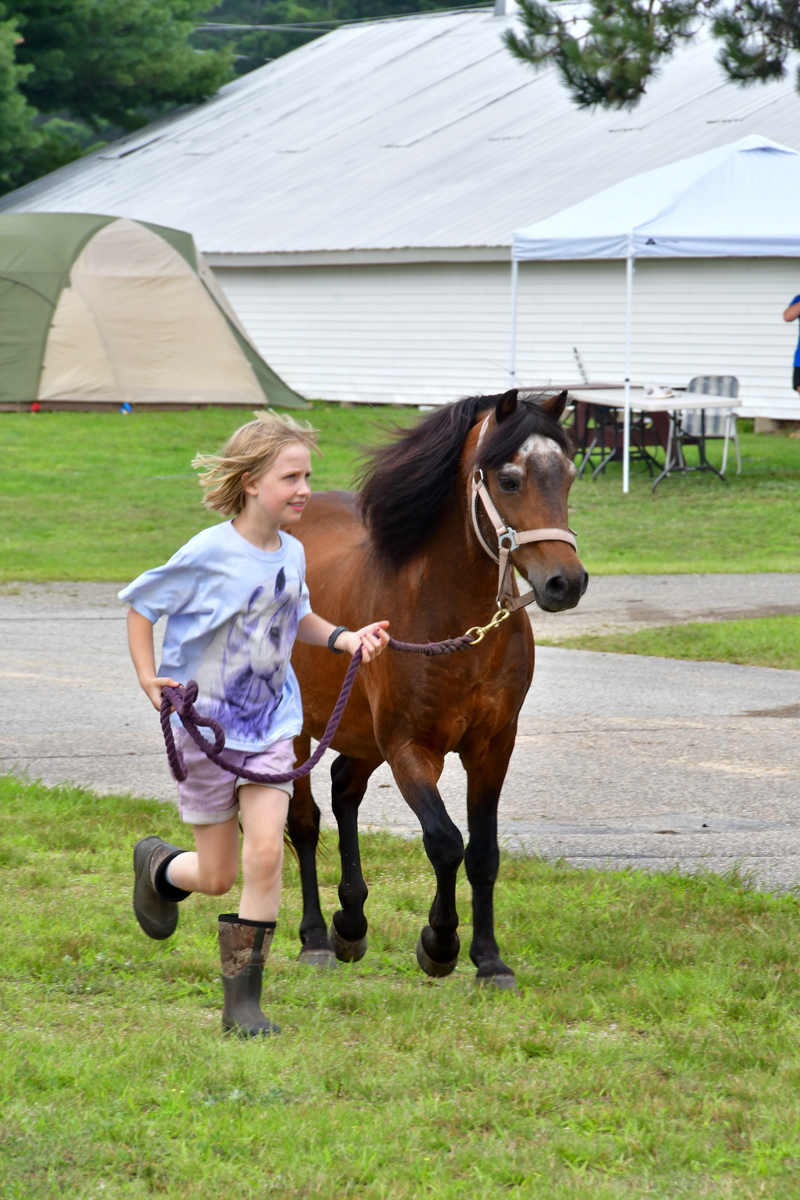 Tuesday morning we got up at 4:00. Rob and Quinn started the 50 mile ride at 6, while Anna, Amanda, and Alex started the 25 mile ride at 6:30. This season has been great for Eli who already completed 3 30 mile rides with excellent vet card marks and great recoveries. Quinn decided it was time to try a 50. Quinn had attempted a 50 previously on Duchess, but was pulled for lameness in the first loop so there was definitely a little anxiety going into the ride.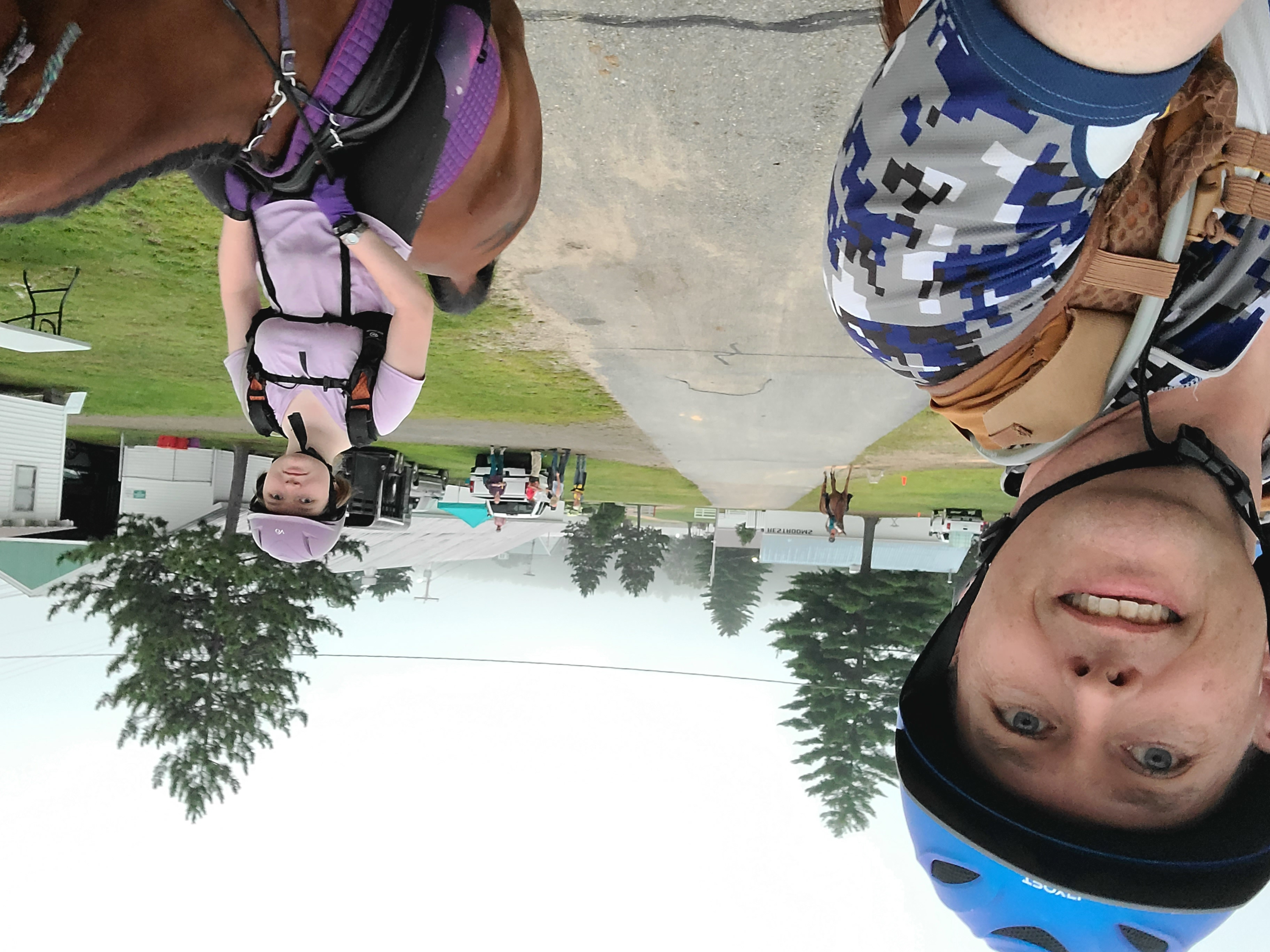 Our first loop on the 50 was 20 miles and we averaged 6.6 mph. Mojo and Eli did great and passed the vet check with ease. They both ate and drank during the hold before we headed out on loop 2. The second loop was 14.9 miles and our average for that loop was 5.4 mph. The horses were slowing down some as the temperatures rose, but nothing to be concerned about. It was hot in the fields and we were happy to cool off a little crossing the river headed back to camp.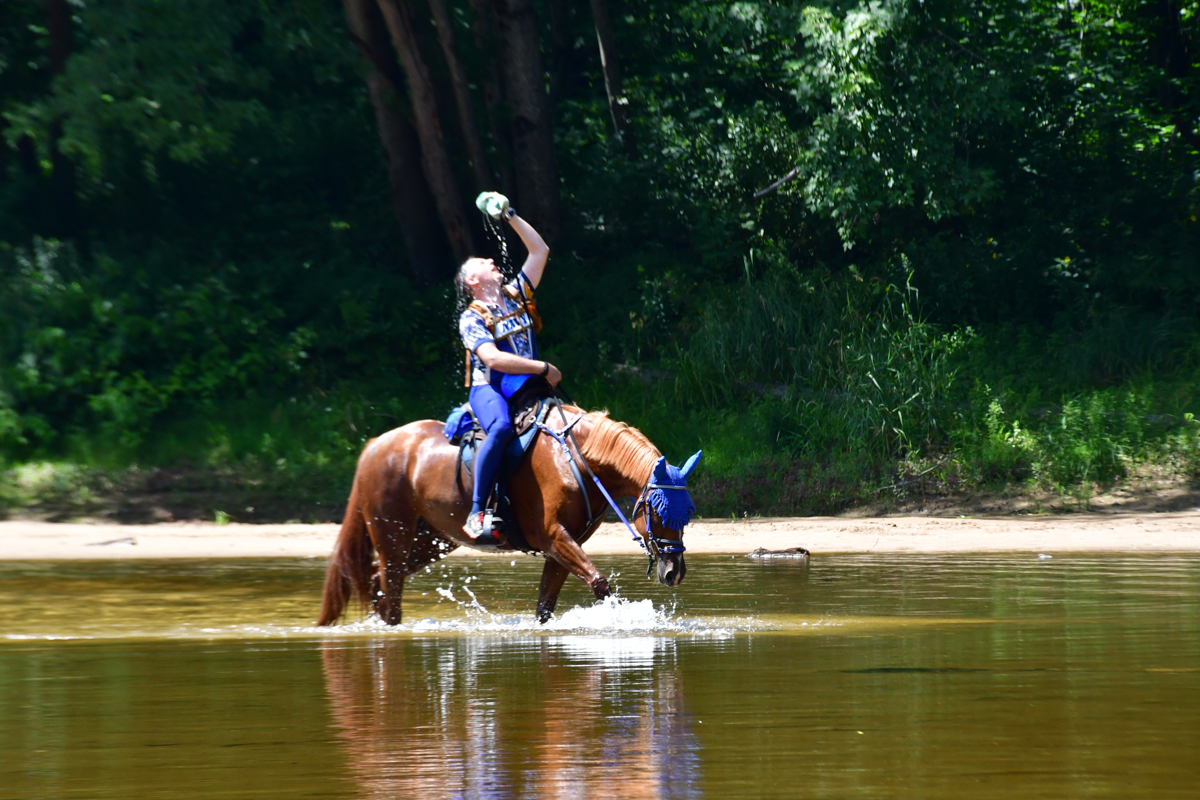 During the second hold, everything went well except I got distracted and forgot to give the horses electrolytes during the hold. Anna realized this as we were saddled and heading back out on course. I thought both were still eating and drinking well so we would just give them another dose mid-loop. In hindsight, I should have given them a dose before we left camp, because Mojo in particular was starting to fade. I ended up stopping about 3.5 miles into loop 3 to dose the electrolytes. I have started taking a quart ziplock of senior feed and Outlast and the horses eat it right after the electrolytes. I think this helps prevent issues with the electrolytes causing an upset stomach. Mojo didn't drink on the 3rd loop until we had been 10 miles, while Eli drank at every water stop along the way. Mojo finally started drinking and was perking up, so we were able to increase speed. We had only managed about 4.0 mph for the first 10 miles, but by the end of the 16.8 mile loop, we had come back up to a 4.7 mph average.
We finished our 50 miler at 5:50; we had 10 minutes to spare. Both horses passed the vet check and were "fit to continue."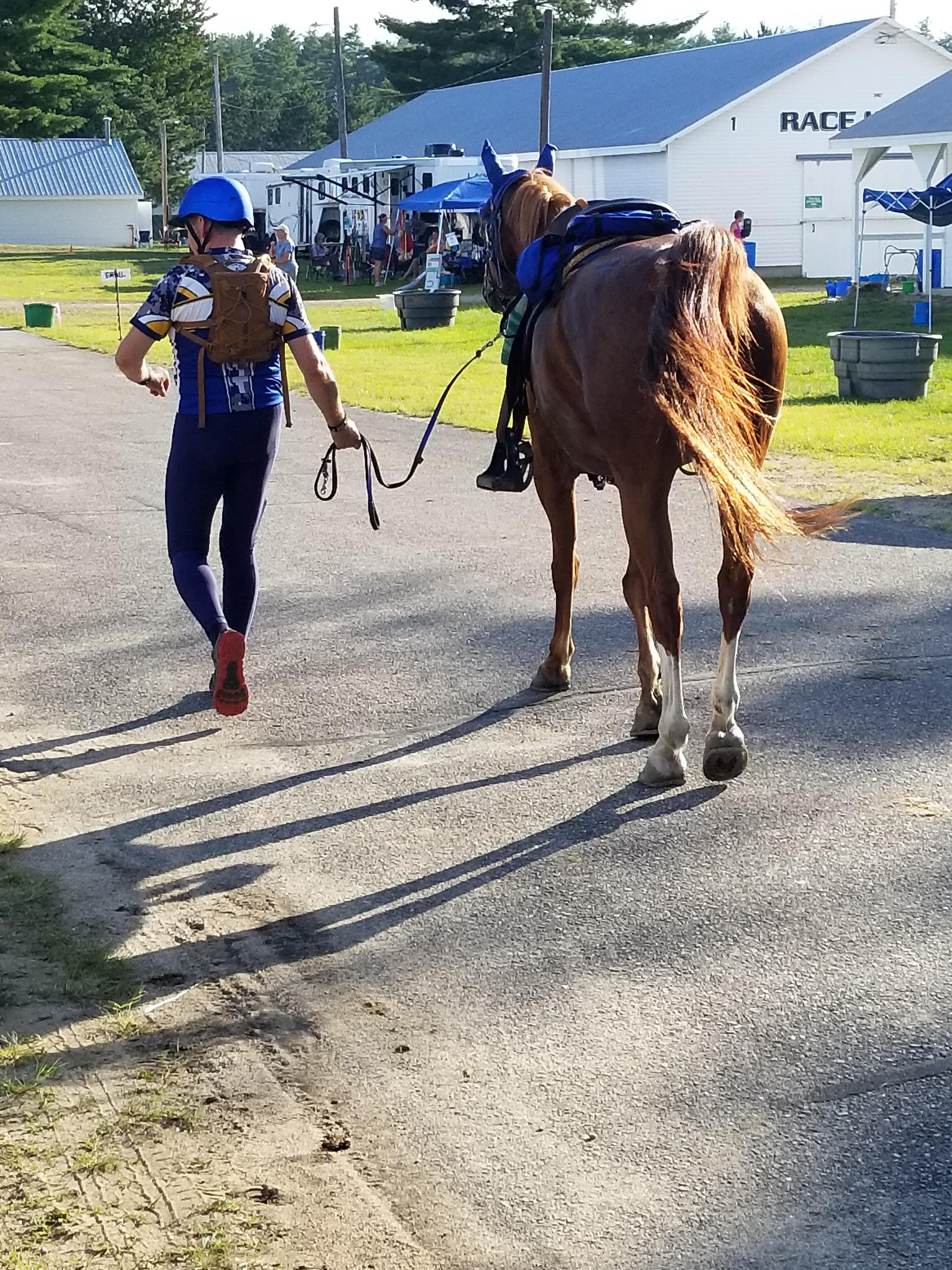 While Quinn and Rob were tackling the 50, Anna, Amanda, and Alex were riding a 25 miler. Alex was "catch riding" on a 20 year old Appaloosa mare named Cinco de Mayo that our friend Lilly Becker brought from NY for him to use. Alex is old enough that he can ride alone, but he still prefers to ride with the family. About 5 miles into the first loop of 11 miles, one of Alex's stirrups broke. Anna got out some vet wrap and they did a temporary repair to try and hold it together. During the repair, Rob and Quinn actually came along and joined the rest of the family, as both distances overlapped for another 6 miles. 2 miles later, the second stirrup broke. At that point, we had to split up. Anna and Amanda had already ridden ahead, because they had the least slack in the day to make up time. Rob and Quinn headed out while Alex continued on foot. It's a good thing he has been doing some running recently.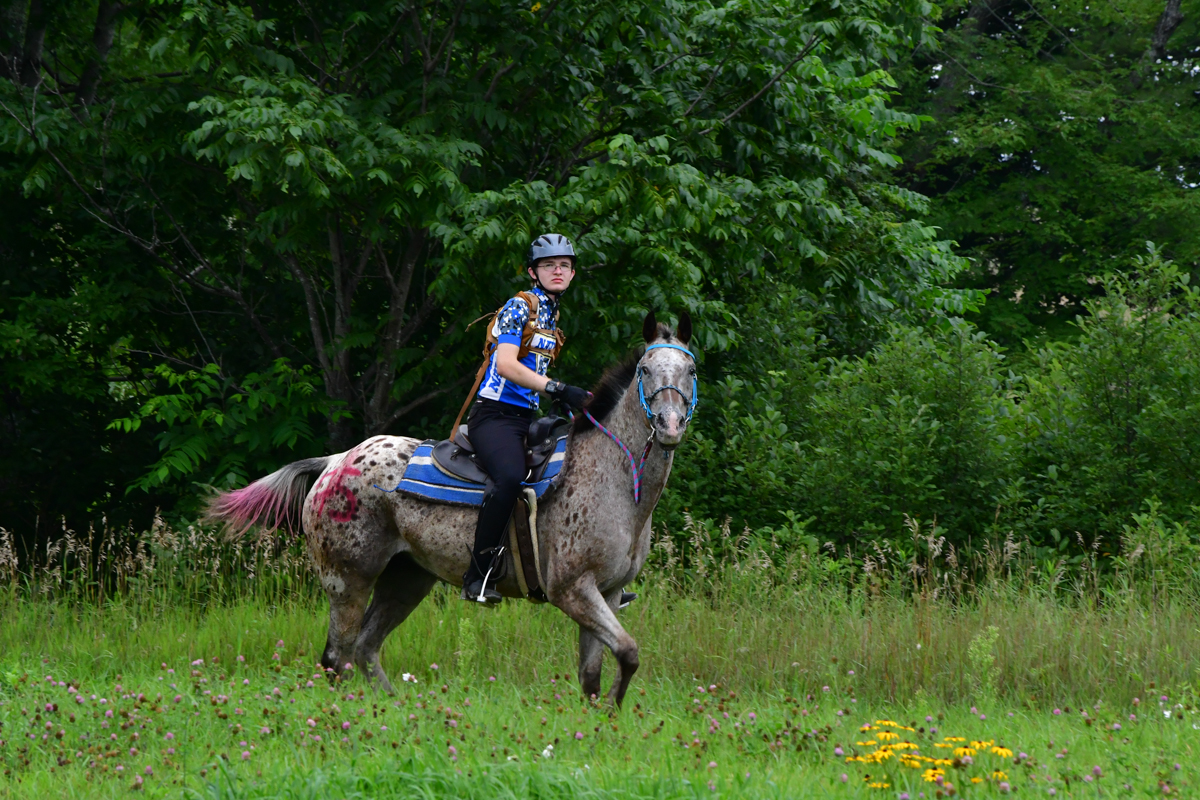 Anna had called our crew (Rob's parents) who had gone back to camp to get a bin of spare tack. Ken was able to meet Alex along the road so he could switch the stirrups and get back into the saddle. Alex made up time coming into the hold. While Anna and Amanda departed the hold ahead of Alex, he caught up to them about 3 miles into the 15 mile second loop. Everything held together for the second loop and they finished with about 10 minutes to spare.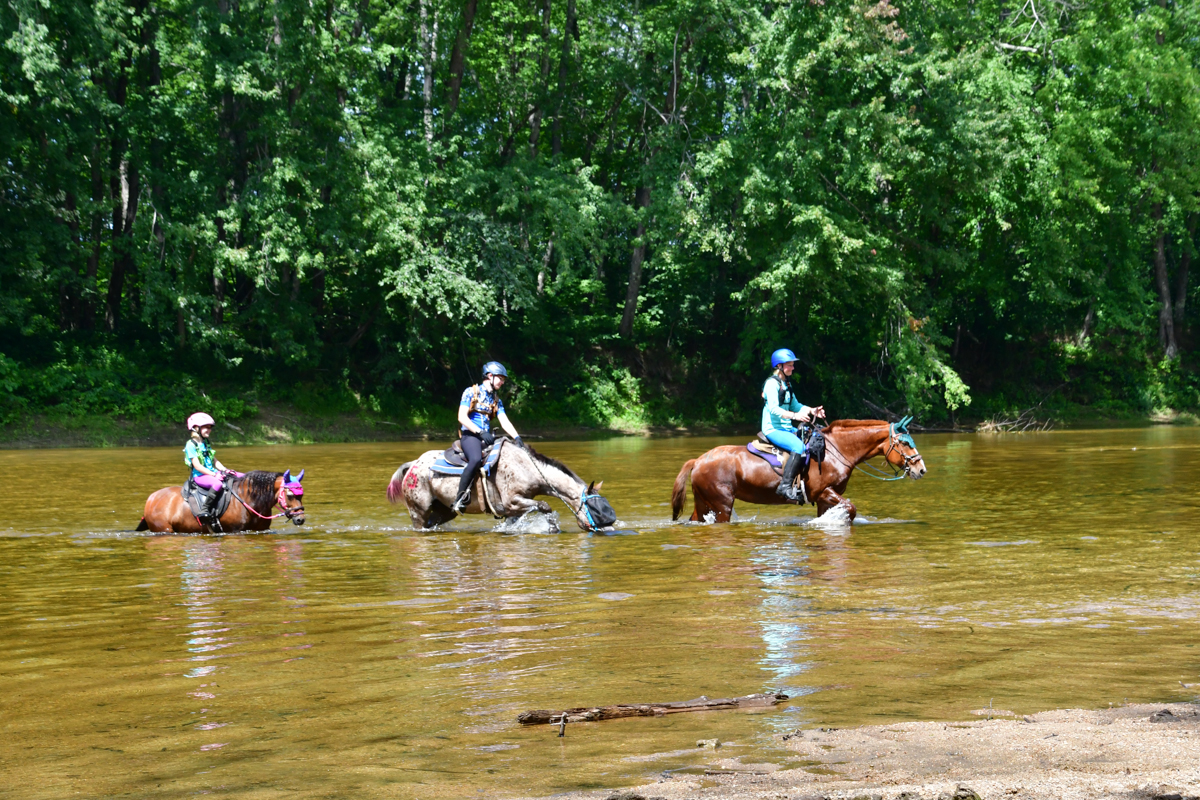 Tuesday evening we learned there are skunks in the field outside camp…Rusty took off after something in the dark and came back covered in skunk smell. A quick trip to Walmart for supplies and a few baths later, he was not as stinky anymore. Phew!
We took Wednesday off of riding, but Rob, Liz, and Amanda volunteered at the ride. Amanda walked around the hold area assisting any rider who didn't have crew by holding their horse while they untacked, took a bathroom break, or just had a few minutes of rest.
Anna and Amanda rode in the 25 mile ride on Thursday. The day started out overcast, hot and humid and ended sunny/bright, hot and humid. The ride out to the hold in the fields was in dense fog and it was hard to see. Anna was glad to be wearing contacts as many glasses wearers were complaining they could not see a thing due to the humidity at nearly 100%. We keep a steady long rein trot "mustang shuffle" except when the munchkin calls out for "a little faster", or we have to walk. Our typical average speed is somewhere between 6-7 mph. We got to the hold after 12 miles in a little under 2 hours. The last few rides Anna has started adding potassium chloride to Amira's regular electrolytes and dosing her immediately upon arriving at the vet check. This practice has helped Amira pulse in and cool down much faster at holds. After a near elimination midride at NY Adventure earlier this year due to electrolyte issues, Anna has been experimenting with different protocols for Amira during training rides and this new strategy appears to be working. This week Amira consistently pulsed at 48 or even 44 bpm.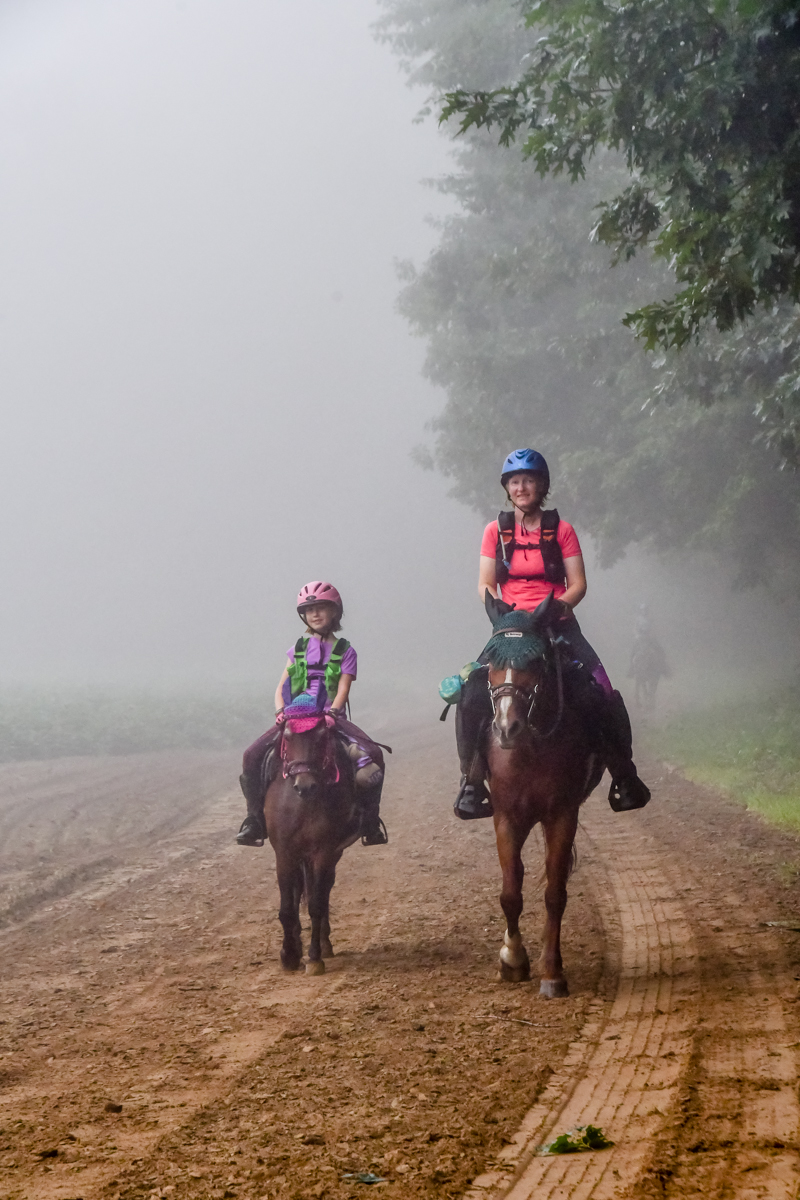 Anna and Amanda headed back out on trail the 15ish miles back to camp after the 50 minute hold. This 25 miler was actually more like 27…The second loop consisted of a mix of fields, gravel road and forest trails, thankfully mostly in the shade, as the sun was starting to beat down the closer we came to mid day. The pair stopped at "the house in the woods" where a couple has a tub and a hose out for cooling horses, and electrolyted mid loop. Anna and Amanda finished the ride and the horses completed with no issues. Ride number two done for Amira and Huey.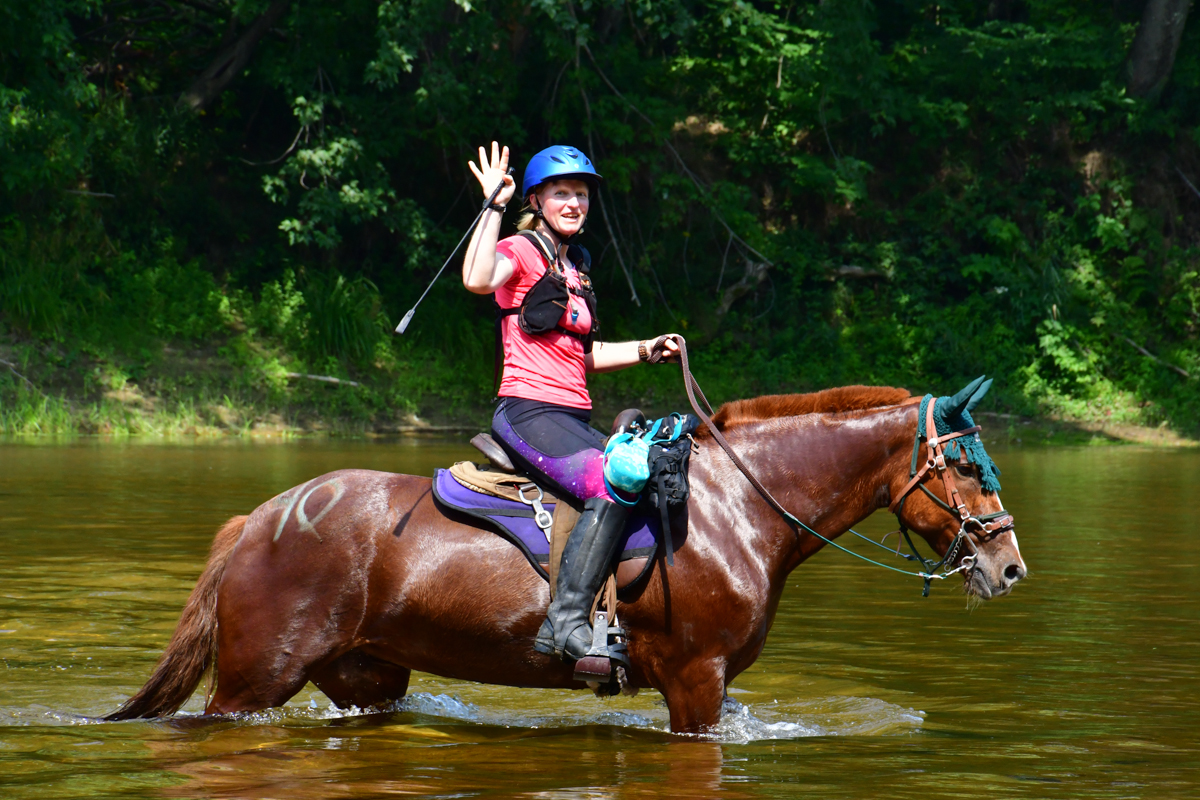 Since we only have 4 horses, we have to take turns with the riding (although Amanda gets Huey to herself). On Friday, Rob on Mojo and Alex on Eli rode the 25 miler. Alex has only ridden Eli a few times, but like on his catch ride, he just gets on and goes. We planned to ride a slow ride and just make sure we got completions on both horses since they had done a 50 miler on Tuesday. The horses had other plans. Right from the start both Mojo and Eli were ready to race. They were at the front of the pack and showed no signs of fatigue from earlier in the week. We didn't let them overdo it, but we completed the first loop of 11ish miles with a 7.9 mph average! Both horses made the 60 bpm pulse criteria in under 5 minutes and ate and drank throughout the hold.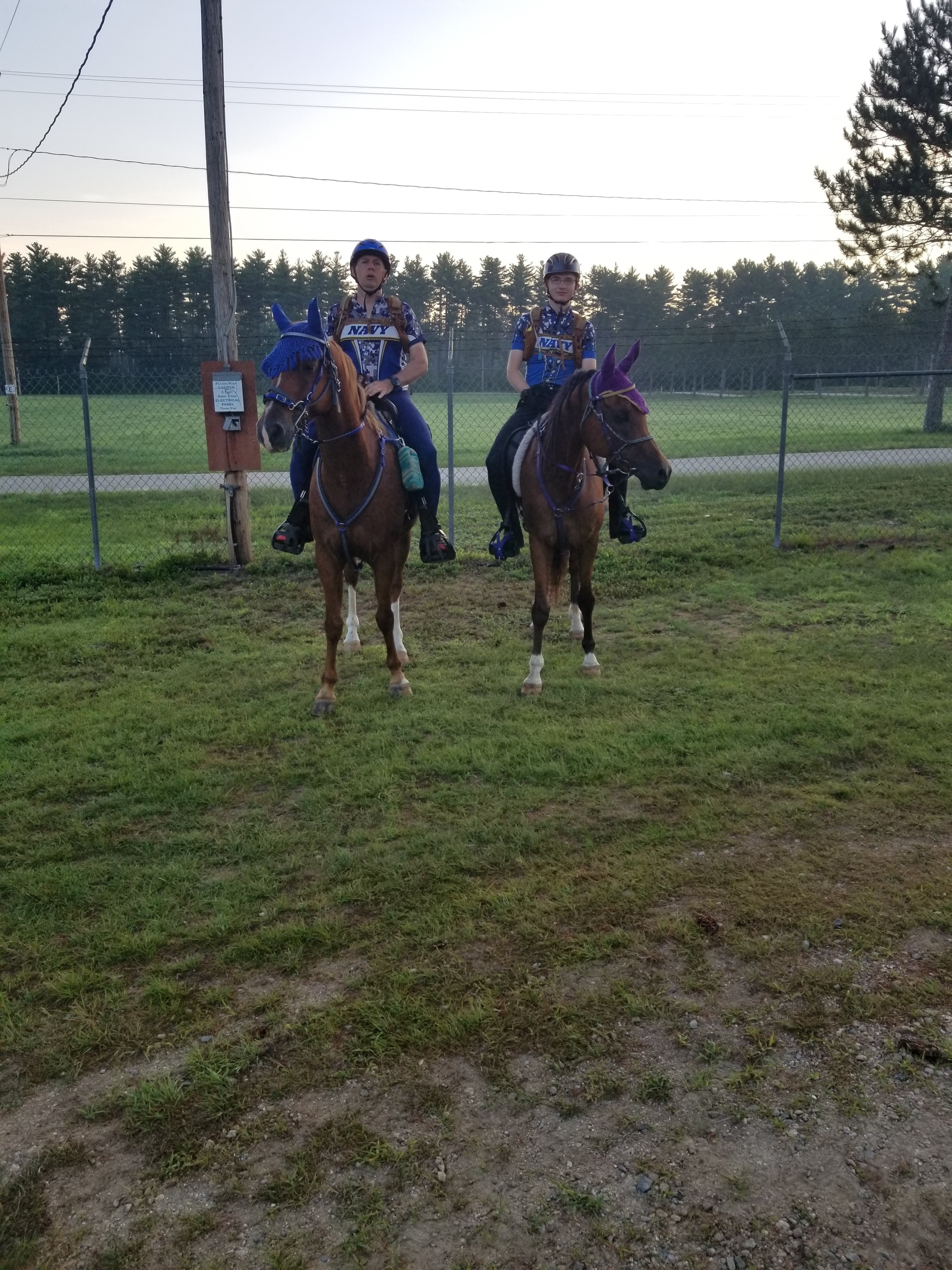 We got back on trail for the second loop and slowed down some, but the horses were still flying down the trail. We completed the 25 miles with a 6.9 mph average, which is one of the fastest LDs we have ridden. Again, both horses cleared the vet check. Mojo had some minor girth rubs and Eli had some minor back soreness (which may have been from the deep footing), so we decided not to take a risk with another ride and gave them Saturday off.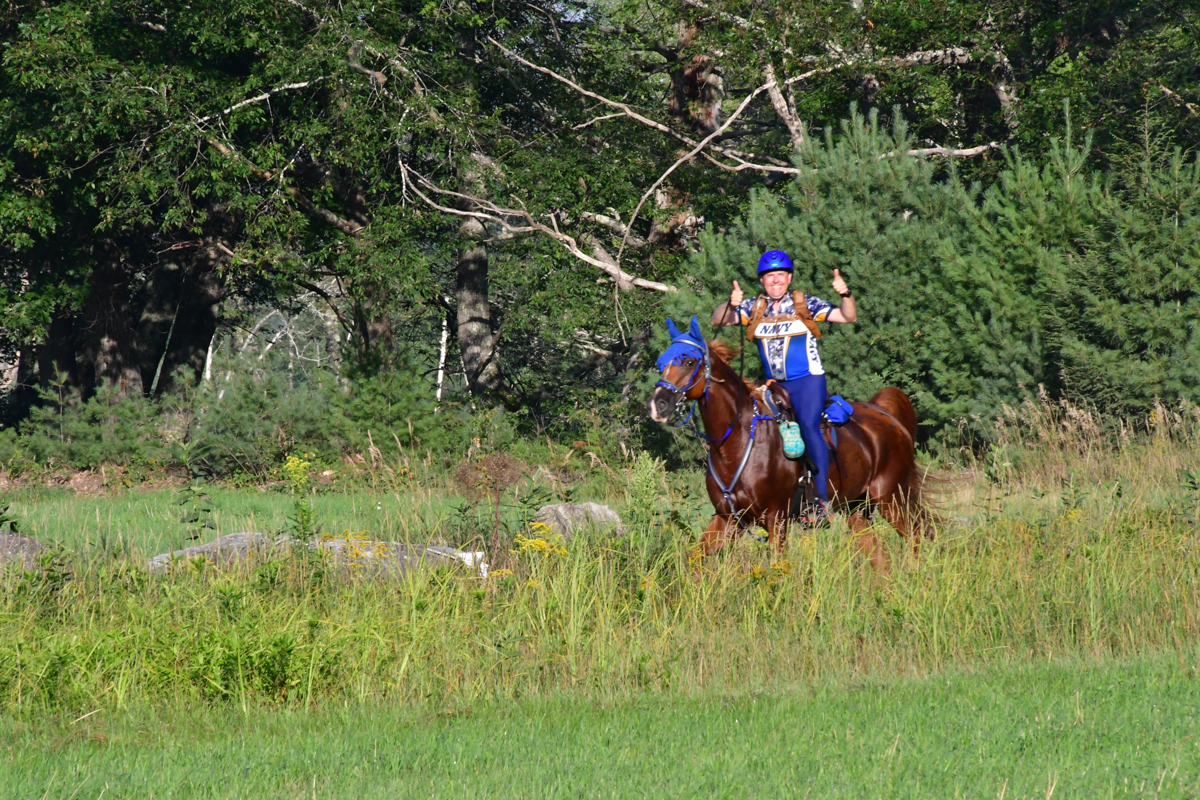 Friday evening it was time for the annual lobster dinner. Anna, Rob and Quinn all had lobster. Also included was corn on the cob, salad, potatoes, and butter. Yum!
Friday before the lobster dinner Rob and Anna got Amira and Huey out and evaluated their movement and attitudes. We agreed that Anna and Amanda would try to ride a third day. Amira looked slow and pokey as usual, but sound, and alert, while Huey really looked same as always, with a little 'tude to go with it. We said "Let's give it a go".
Saturday morning came and Amanda was dragging a bit getting up and Anna's hips and knees were complaining, but both got on their horses and rode off on the first loop. The fields were not as foggy as on Thursday morning and there was even a rainbow as we came up from the river.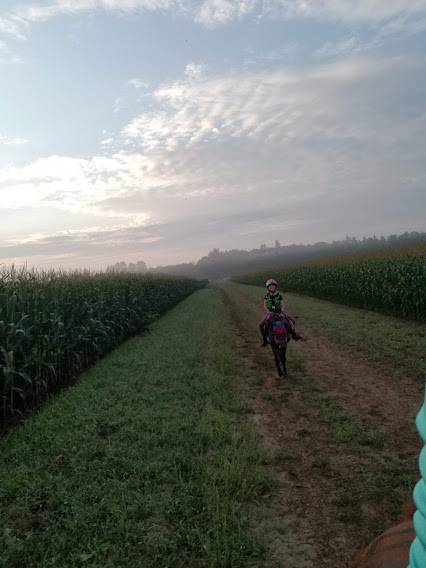 At the hold the horses pulsed down, passed the vet check and ate mash and grass. Rob and Alex helped crew, along with our friend Mary.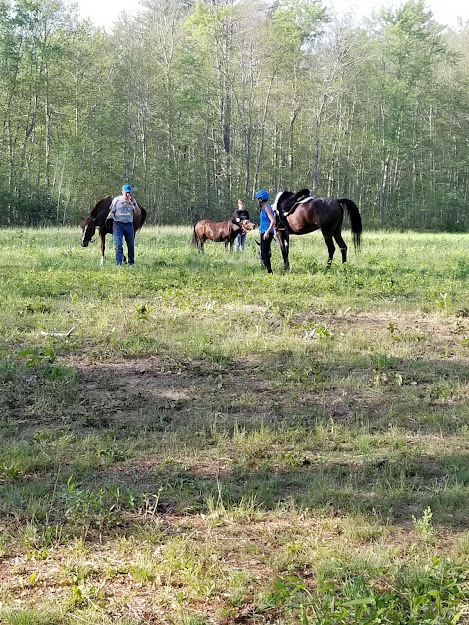 The ride back to camp was uneventful. We kept on keeping on and finished the ride in a pretty steady manner. The horses were pretty tired, but somehow we managed to be in the top ten coming in. Both Amira and Huey finished three rides of 25 miles this week at Pinetree, which for them is quite the accomplishment! In fact, each ride through the week was faster than the previous!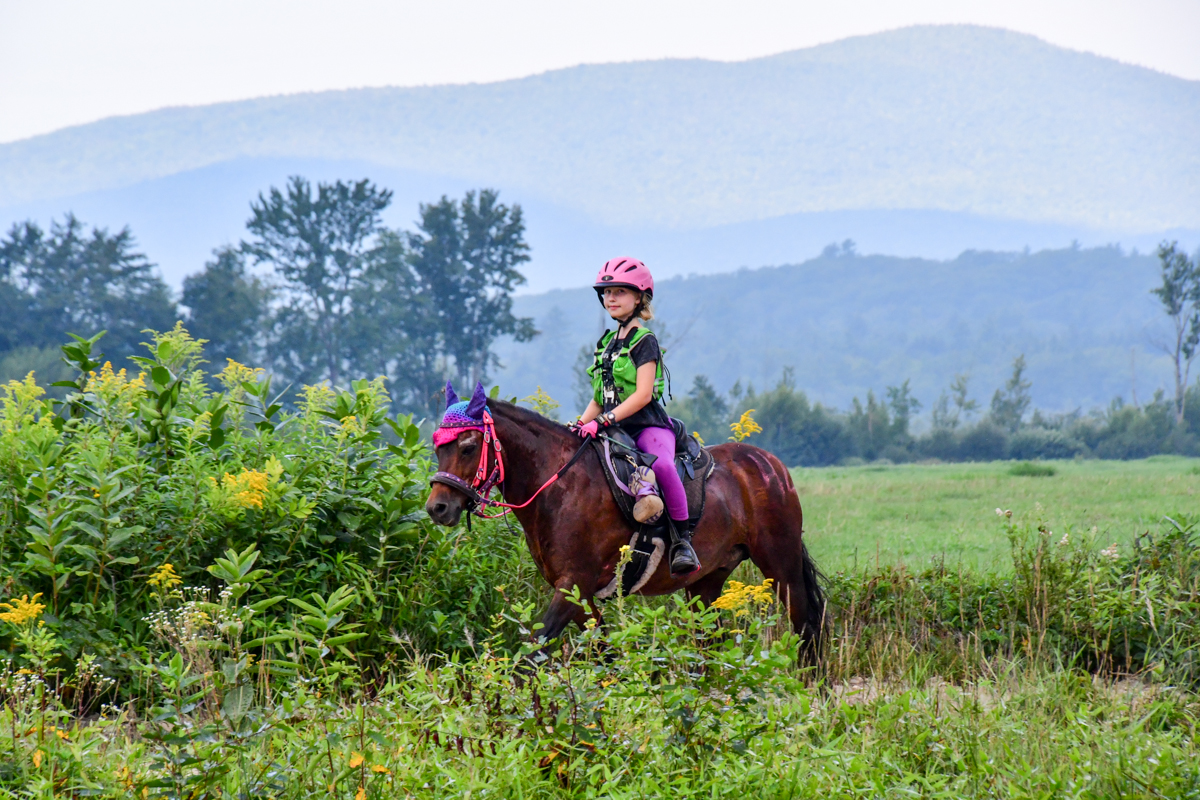 We always enjoy going to Pinetree for the friendly, easy going, and encouraging environment. This week we saw some old friends, rode 11 rides, helped out others, made some new friends and acquaintances. Our family would like to thank all the vets and volunteers, along with those special people (you know who you are), who help us out when we need it. A special thank you goes to Susan Niedorora for keeping the ride going despite all the headaches.
Thank you also to Liz and Ken, for coming to see us all the way from Alabama, filling in the needed gaps and feeding the family(and getting the peroxide, baking soda and dish soap to clean the Rusty).
Now the horses get some time off before heading out to Northeast Challenge at the end of the month.