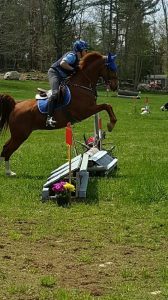 This past Saturday Rob, Alex and Vicki took their horses to Horsepower farm for the first Crosscountry Derby of the year.
Unfortunately, Alex came off Dakota during the warm up and hurt his right foot by slamming it straight into the ground. He sprained the big toe on his right foot. Therefore he opted not to jump his course. After a trip to the Backus ER to rule out a fracture he is benched for a week with a walking boot. He has a follow up appointment on Friday of this week for a repeat xray to make sure of no broken bones. He has a mystery bruise in the middle of his foot in addition to the toe hurting so who knows.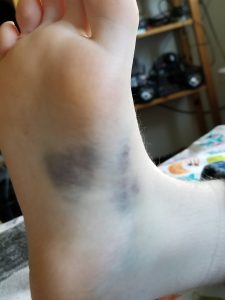 Rob rode Mojo in the elementary and beginner novice divisions. Vicki rode Duchess in the pre-elementary division.
Rob did well and placed 2nd in elementary and third in beginner novice. As always he rode too fast…
Vicki decided not to ride with a crop and regretted her decision when Duchess didn't want to trot away from her friends. Hm, I think someone learned a lesson…Vicki did get Duchess to go, but her time suffered. They did get over all the jumps and there were no unplanned dismounts.

Sunday the kids were all supposed to ride at the Pony Club games rally. Vicki and Alex were signed up to ride on a junior games team. Alex was unable to ride with his foot injury. Alexis stepped up and rode Duchess as fifth member of a Mystic scramble team with the White Mountain Region Team Starstruck. She was originally signed up to be the advisor for the grasshoppers, but there was a C sibling to one of the games riders that stepped up to help (Thank you Clara!). Vicki rode Devil and made the weigh in…she sure loves that pony. Devil is 12 hands and has a rider weight limit of 117 pounds(boots and helmet included). The team did well, considering they had never trained together, earning a 2nd overall, 3rd horse management. At a rally, as opposed to a show, the way you prepare and take care of your horse for the day counts as part of your score, and goes into the overall score, making your games play and horse care equally important. Vicki had some great games (bending, balloon, and mug shuffle) and a few not so great games (pyramid, toolbox) where Devil decided to run home without stopping. Switching Devil to a games legal bit really affected her whoa.We might try a mullen pelham next time(no jointed leverage bits allowed).
Amanda rode on a grasshopper pairs team and joined forces with Victoria McCallum from Oakendale on her pony Tink. They were the "Giddyup Girls". They rode well and got first horse management, second overall. Amanda rode by herself for most of the games except when having to get on and off for corrections and for safety at handoff (since the ponies didn't know each other).
After the games rally the girls were very excited about games and talking about possible National Intent for next year…to be continued.