2 weeks ago, we rode as a family at the Lyme Trails Association Hunter Pace (aka Lord Creek Hunter Pace).  I rode Mojo with Alex as my teammate on a trial pony, Zippy.  Anna rode Teddy and Vicki rode Devil.  While Zippy was a good trail mount, we decided he wasn't quite what we were after to replace Dakota, so we have since returned him.  However, we were thankful for the chance to ride as a family at a great venue.  For the past 2 years, horse or people injuries have resulted in only 3 of the 4 of us getting to ride.  Anna and Alex went around the jumps this year, as neither was ready for that on their mounts.  Vicki and I went over jumps… a lot of jumps.  It was AWESOME.  Mojo and I went over jumps that were bigger than anything I have ever attempted previously and only gave me 1 refusal all day.  Here are links to the Judy Bosco's site, who was the ride photographer.  I bought a copy of Mojo and I jumping.
This weekend was Ayer Mt Farm's Autumn Daze, which is also known as Jump, Jump, Jump.  It is a 3 phase jumping show which includes stadium jumping, derby jumping, and cross-country.  Derby jumping is a combination of stadium and cross-country jumps.  For any of our local riding friends, this is an amazing little show (I think there were 16 entries) and tons of fun.  I highly recommend you do it next year if they don't cancel due to low numbers.
Since the previous weekend went so well, I decided to bump Mojo up to the Elementary Division (max 2'3″ jumps) while Vicki and Devil rode in the Grasshopper Division (max 18″ jumps).  To be clear, I had never actually ridden a stadium jump course on Mojo at anything other than 18″, so Anna considered my choice of divisions completely impulsive and irresponsible.  Anyone who knows my approach to riding will understand, it's just my style to go for it and not worry about failure.  It turns out, Vicki has the same go-for-it attitude.
Anna had this to say about the following picture: "This picture is one of the proud mama moments I had as Devil was a total brat pony all day and Vicki totally rocked her confidence as she made her pony do what he didn't have any intention of doing. He refused this jump twice before she made him jump it and then stayed on for the mega leap."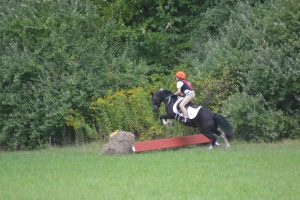 Vicki did get eliminated during her derby round because Devil did a spin refusal approaching a log jump and she came unseated (meaning hit the ground).  Despite that, she never lost her reins, bounced back up, and was back on Devil before the nearby fence judge could get there.  The event is "schooling friendly" and still allowed her to complete the rest of the derby round and ride her cross-country course.  Vicki was all smiles despite the elimination.
Things went a little better for Mojo and I.  In stadium, he knocked down 1 rail over a roll top (which was almost a refusal).  In the cross-country round, we had 2 refusals at a coop which were my fault.  I realized on the second refusal I was reading all the words on the side of the coop and Mojo was spooking at it because I was looking down.  As soon as my eyes came up, so did his front feet.  Despite these minor issues, we were able to take 2nd place for the day.  I think it was the best showing experience I have ever had and continues to show how much heart Mojo has.  I definitely benefited from recent lessons with Ann Bowie and Julia Cronin who both gave me insight that aided our performance.  We have plenty to work on to get better at our jumping, but it's so nice to have a willing partner that forgives my errors.
One last thing.  For all the riders who feel pressured to put shoes on your horse, I rode Mojo barefoot for the stadium phase (because the grass was a little slick) and in Easy Care Gloves for the other 2 phases.