Now that May is coming to an end, our schedule is calming down a little.  Things have been non-stop with music concerts and horse activities.  This weekend, Alex and Vicki participated in the local Pony Club eventing rally at Mystic Valley Hunt Club.  At a Pony Club rally, the parents can help set up the area first thing in the morning, and then the rest of the day is up to the kids.  We arrived at MVHC at 7 and didn't leave until about 5:45 that evening.  The kids had horse management inspections (including verifying all required equipment was present and labeled), a written test, formal inspections of rider and mount, dressage tests, stadium jumping, and cross country jumping.  Parents are not allowed in the areas at all, so it is all up to the kids.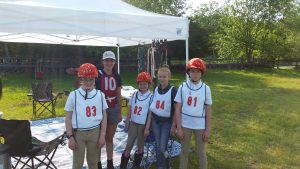 It was a long and hot day, but the team managed to keep their spirits up and had some good rides.  Alex and Nike had great jumping rounds.  The jumping Steward (keeping track of which rider was next and sending them into the arena) turned to me after their first jumping round and said "Is he your son?"  I said yes.  She replied, "I was not prepared for how well he would ride.  They are a really good team."  It perfectly captured Alex.  He was moping around during the course walk and acting like he hated everything.  But as soon as they enter the jumping course, it's pure business and Alex had a huge smile on his face.
As good as Alex's day was, Vicki's was even better.  She rode the best dressage test I have ever seen her ride and it was reflected in her 69 score.  Then on the stadium and cross country courses, she had clear rounds and loved every minute of it.
At the end of the day, the team won 1st place in Horse Management and 5th overall.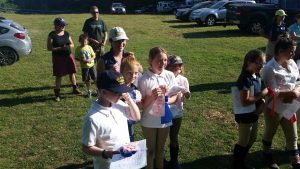 Yesterday was wet and still hot, so we gave the horses a break.  This evening, we decided to head out for a trail ride.  Alex really didn't want to go, so he got a pass (I'm sure Nike didn't mind).  For those who have been following, King had EPM over the winter.  We have been bringing him back into work slowly and are cautiously optimistic that he might actually make it back to competitions this summer.  This evening, Anna rode King, I rode Mojo, Vicki rode Dakota, and Amanda rode Huey.
Amanda is becoming quite the trail rider.  We only rode 5 miles over 1:15, but Amanda was constantly announcing when we needed to trot or walk based on the terrain, although her default is always more speed.  They did plenty of trotting and cantering.  She and Huey are a great team.  Mojo was great.  I love his trail demeanor and he is very level headed.  He is definitely powerful and loves to race, which makes him a great match for me.
Hands down, the best part of the ride tonight was watching King back in work.  King was the first horse that was "my horse".  We bought him in 2002 for me and he has been a rock star.  The last 2 years have been rough with injuries and illness, but tonight he had every bit of his power back and was moving great.  I look forward to his return to hunter paces.