Today, we joined a group ride with NEATO (New England Arabian Trail Organization) at Pattaconk State Forest, which was a new venue for us.  We rode just the single 10 mile loop.  We were originally planning to do 18 miles, but the day got started a little later than planned and we had 5 flat tires on the trail.  A "Flat Tire" on the trail is our code word for a boot problem.  We have been having a lot of boot problems lately, but we have some Renegade boots on order and hopefully, that will reduce the number of boot casualties.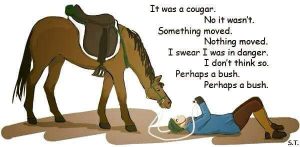 This comic is such an amazingly accurate illustration of my relationship with Echo.  Don't get me wrong, Echo and I are getting along great.  But out on the trail, he goes into full Arab mode.  Last summer, Misti literally spooked at a Butterfly crossing the road ahead of us.  It seems Echo is quite untrusting of rocks.  In particular large rocks on the side of the trail, flat rocks in the road, and rocks that are a different color than other rocks.  Throughout the ride today, as Echo would veer to the side, Anna would laugh and say "Perhaps a bush."  It was the scary mud puddle that caused a spook resulting in my forward somersault over Echo's shoulder.
Even though we didn't ride as far as originally planned, it was a good training ride and I think we are still on track for Alex and Vicki to do their first 25 mile ride in May.  Echo, Dakota, Nike, and Devil all did great.