This morning we awoke to just under an inch of snow.  This has been one of the weirdest winters (and now springs) since we moved to CT 10 years ago.  By the time we went out for morning chores, it was still snowing, but the snow on the ground was melting.  By lunch, the wind was blowing enough to drop the wind chill a fair amount and the snow on the trees was turning to ice.  So we went for a trail ride.
Amanda came to breakfast in her mermaid wrap that was made for her at Christmas by a family friend.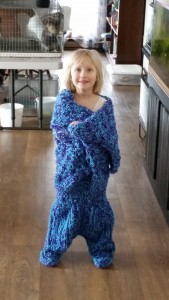 Today's trail ride featured 6 miles of an air temperature about 37F, wind chill in the 20s, and ice constantly hitting us (and the horses) as it blew out of the trees.  There were only 4 of us on today's ride: I was on Echo, Alexis on Ace, Vicki on Devil, and Alex on Dakota.  The 3 ponies did great.  Echo was great for the first half.  When we hit the turnaround point, I moved him from lead horse to last horse.  He didn't care for that and it made the second half of the ride more interesting.  He wasn't bad, but he didn't want to trot behind the others.  It is definitely an area we will have to keep on working on.  I did decide to run him out a little to burn off some of the energy (the ponies were all happy to keep trotting along quietly as we pulled away for a couple of minutes).  Echo established a new top end speed today at 25.8 mph.  He sustained higher than 20 mph for 1/4 mile, but we had to pull up when 3 of his 4 boots had come off and were holding on by the gaiters. I'm not really convinced the Gloves (hoof boot) are designed for speeds above 20 mph because that seems to be when we consistently have problems.  I also rode Echo in an S Hack today for the first time.  I was overall satisfied with the control and stopping power.  The advantage of riding in a hackamore when doing trail/distance riding is it is easier for the horses to stop and eat/drink at breaks along the way.  Next weekend we will do a longer conditioning ride with  at least Dakota, Devil, and Echo as we continue to prepare for our first 25 miler of the season in May.