Yes, it's true.  There are now front shoes on Mystique, Dakota, and King.  I know, I know.  You are thinking, "but Rob is a barefoot trimmer!"  So I guess now, I am a farrier, and not just a barefoot trimmer.  But before everyone gets all "I knew it wouldn't work" let me explain.  Last year, I debated very heavily about getting into gluing on Easy Shoes.  I even got a whole delivery of inventory.  But I sent it back unused.
This year, Anna and I are planning to do a 30 mile endurance ride in October.  As a result, we have been spending more time trail riding than in year's past.  Dakota in particular, is very hard on boots and tends to over-reach and tear up the gaiters.  So, after a lot of consideration, I decided to take the plunge and try out the Easy Shoes.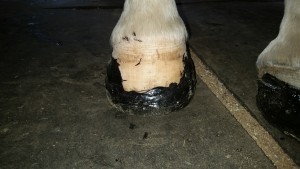 This afternoon was my first gluing session, and I learned a lot.  For example, when it's 85F, the glue doesn't set in 5 minutes; it sets in about 90 seconds. Also, don't work on Dakota alone in cross ties, because he might freak out, break the cross ties, almost trample me while trying to finish the glue, and take off out of the barn.
Of course, after putting some new shoes on, I had to take them for a ride.  So Mysti and I went for a trail ride, alone, starting at 7:30 in the evening. I've only ridden her alone a couple of times, and it's something we have to work on in case Anna and Dakota couldn't finish a ride.  So, we went out for a nice 4.4 miles as the sun set.
Mysti still needs some confidence; she gets nervous about things like rocks on the side, trees, changes in the color of the ground, wind in the trees, and basically anything else you encounter on the trails.  But she did go out alone.  And she trotted the whole time (when she wasn't slamming on the brakes due to a puddle in the road).  I took her riding fly mask off and that actually helped her calm some.  And as it got dark, we headed on the last mile back towards home and Mysti was very confident, which really surprised me.  But my biggest surprise of the evening was, Mysti really liked the shoes.  She moved awesome and her front end was very light.  She definitely liked the shoes better than the boots.
So now, it's just a matter of determining how long the glue ups last.  Easy Care says farriers are getting anywhere from 4-8 weeks.  One benefit of having a whole herd is there are plenty of test subjects.