It's been 2 weeks since I posted.  It's not that there hasn't been anything going on, but rather, we have been so busy I've been too tired to sit down and write.
On May 16th, we had the CT State 4-H Horse Show.  6 kids from our club, the Barnyard Buddies, attended and had a great time.  Vicki managed to win the walk-trot division and the 18″ hunter division.  On the 17th, our club participated in PetTopia in Jewitt City.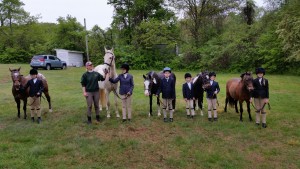 Monday, the 18th was Amanda's fifth birthday.  We had a small family party Sunday evening before my parents (who had been in town for the previous 2 days), left with all 3 kids and our travel trailer Monday morning.  They took a trip to Steamtown, PA and had a great time.  I don't have any pictures because I stayed home with Anna.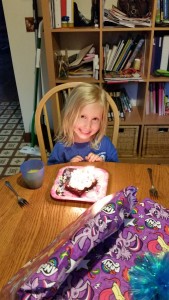 A friend who knits made Amanda a "big pink stocking" in accordance with her repeated requests.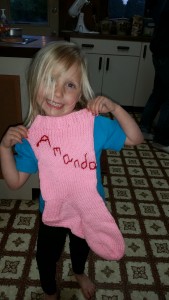 Of course, while they were gone we got some good trail riding in on Dakota and Mysti.  We have found a nice 6 mile loop for conditioning the horses.  We also have a 4 mile loop and occasionally even ride in the arena.
This weekend, the weather was amazing.  Since I had both Friday and Monday off work, we did a family trail ride on Friday (6 mile loop) with everyone geared up for the first hunter pace which is 2 weeks away.  Never try something new on race day!  The plan this year is Vicki and Anna will ride in the slower division and Alex and I will ride in the middle division.  So, today, Alex and I went out and ratcheted up the speed.  Dakota and Mysti are an amazing team on the trails.  Dakota is a rock star in the lead!  Mysti has found her confidence and is very sure-footed.  She isn't ready to be a leader, but we will work on that later in the summer.  We logged about 20 miles in the past 8 days, so her conditioning is progressing nicely!  When we got back today, Vicki hopped on to cool her off in the arena.
Sunday was Amanda's "A Very Hungry Caterpillar" birthday party.
This afternoon, Anna and I worked on planting more in garden – this will be our biggest garden yet.  Anna also spent about 4 hours teaching lessons in the arena today.  After dinner tonight, Amanda insisted that we have a Memorial Day party, so Vicki and Amanda did an impromptu performance of dog tricks with Turbo and Mack.
Luckily, I go back to work in the morning so I can rest up for next weekend!