As a trimmer, I see a lot of hooves.  Sometimes, new clients have horses with hooves in great shape being transferred from another farrier or trimmer for whatever reason.  Sometimes, hooves are overdue because money has been tight, previous farrier didn't show up a few times, or just life happened and the hooves got overdue.  But when does overdue become neglect?
Earlier today, I got a call from someone I have worked with before.  She isn't a regular client and uses a local farrier to keep her horses in shoes.  However, her farrier hasn't been available and she needed help.  She had recently been looking for a companion pony.  In the course of her search, she went to see one particular pony that was a little older (maybe mid twenties).  When she arrived, she was basically told the owner planned to put the pony down if no one took it.  The hooves were in serious disrepair.  She decided to load up the pony and take it home.  It needed everything – hoof care, vaccinations, feed, etc.
I didn't see the hooves when she first got the pony.  Apparently, the hooves were so overgrown, they had wrapped OVER the shoes on the front hooves.  She had been using a rasp to slowly work at exposing the shoes so they could be pulled.  This morning, discovered one shoe had finally come off and she wasn't sure about what to do with the hooves from there.  I was passing within a mile of her farm today anyways so I stopped to take a look.  Note she has only had this pony a short time.  The pictures show significant neglect by the previous owner.
Left front before trim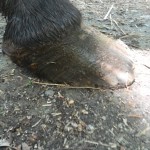 Right front before trim.  I snapped a photo of the bottom of this hoof, but it didn't turn out.  This hoof still had a shoe with pad on it.  The shoe was mounted backwards, which is usually a sign the previous farrier was treating founder.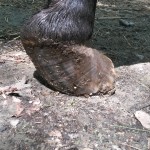 Since the current owner rescued this pony and had already paid to have it vetted, I did the trim pro-bono.  I don't think she is going to be keeping the pony long term as it doesn't get along with the intended companion, however, I'm sure it will get hoof care while she has it.
Left front after trim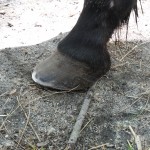 Right front after trim