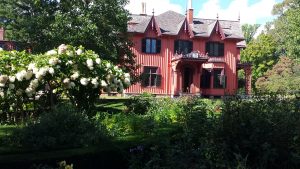 Roseland Cottage is a step into the Victorian era of Connecticut. Saturday September 24th was National Smithsonian Day and several museums around the area were offering free admission. The kids and I took advantage of the opportunity to go see this museum I've been thinking about for a while and went to visit Roseland Cottage in Woodstock, CT.  Alexis came with us as well.  Situated not quite 45 minutes from our house, this house is on the National Historic Register and proved very interesting , even to the kids. I believe Alex could count this day as a school day field trip!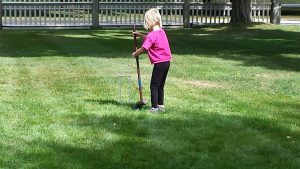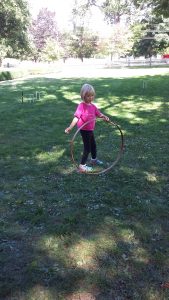 We showed up a few minutes late for the one o'clock tour, so we had some time to kill before our two o'clock tour.  Turns out the old horse stalls of the barn and carriage building have partially been turned into rest rooms, which the kids got a kick out of.
The kids enjoyed playing some Victorian games while we were waiting, such as the game of graces or french hoops, trundle hoops, ball in cone, spinning tops, and croquet.
There was a civil war reenactment camp going on with a collection of dressed up soldiers, muskets, and a cannon. To Alex's dismay, the cannon was not usable, but he got a lesson in how they loaded it.
They had a kids activity set up to learn how to build a bridge for the soldiers and their wagons to cross rivers and the kids worked on this project for a while.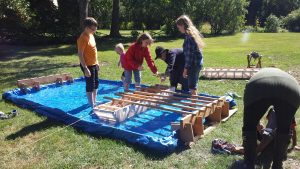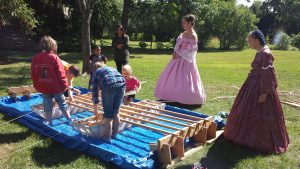 At two, we started our tour. The gardens have the original boxwood gardens with 600 feet of hedge in a parterre style.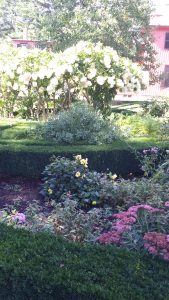 We had to put on booties to enter the house, except Amanda who went barefoot, since the booties were so big they were a trip hazard.  Roseland Cottage was built in 1846 as a summer house for Henry and Lucy Bowen. They entertained important guests, including three presidents at this house. It is built in a gothic revival style, but later redecorated in a more Victorian style, including massive stained glass windows, fancy wall coverings and dark elaborate carpets. The house had 5 bedrooms, and we also saw the dining room, conservatory and sitting room.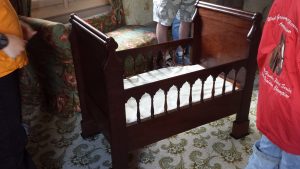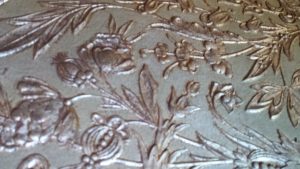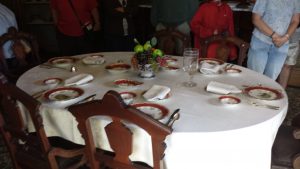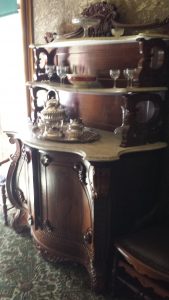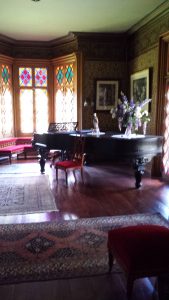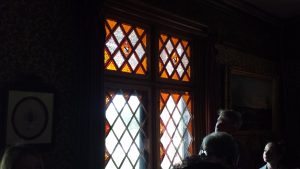 After the house we got to see the indoor bowling alley. Roseland Cottage has one of the oldest bowling alleys in the US. It is not part of the house itself, but rather a section of the barn and carriage house. Tucked into the bowling alley was an old carriage, which drew more attention from the girls than the bowling alley itself.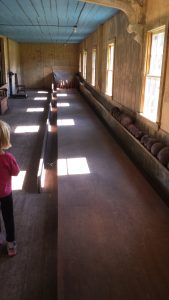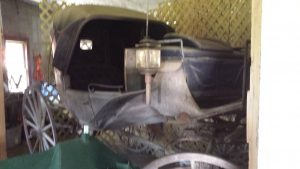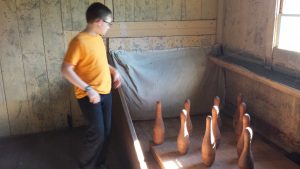 After the house tour the kids returned to the now finished bridge project and got to walk over the finished bridge.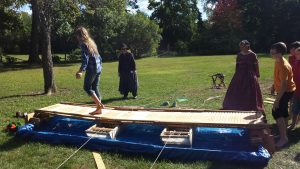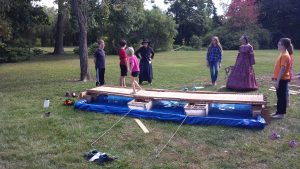 We finished off our visit by talking to one of the soldiers and he showed Alex how the muskets worked and Alex and I were surprised to find that they were so slow to reload.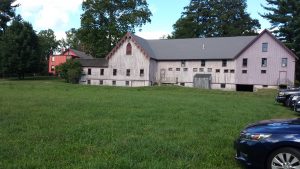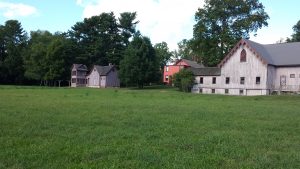 We had a great visit, and I would definitely recommend this field trip to others, although young kids may not enjoy the house tour. Amanda was getting pretty restless at the one hour mark, but perked up when we went to the bowling alley and loved playing all the Victorian games.
If you are interested in more information about Roseland Cottage, here is a web site to get you started:  http://www.historicnewengland.org/historic-properties/homes/roseland-cottage/roseland-cottage-history