It's hard to believe we haven't made a blog entry in over 7 weeks. Things have been busy, so I guess we should do a catch up post.
We have 2 kids in high school: Alex is a junior and Vicki is a freshman and Amanda is in 4th grade! All the kids are doing great in school. Alex and Vicki are participating with the Mystic YMCA Hammerheads swim team again this year and Alex is in driver's ed class 2 nights a week.
first day of 4th grade

first day of 4th grade

first day of 9th grade

first day of 11th grade
In August, Eli came to the farm on trial. Vicki rode him at home, on trails, and in a lesson at Horse Power Farm. He did great in each endeavor, and after a pre-purchase exam, we bought him.
Alex loves Teddy and is committed to riding Teddy in endurance, but he takes some lessons on Mojo because Mojo is awesome as a teacher for Alex.

Vicki and Eli

Vicki and Eli

Vicki and Eli

Alex and Mojo

Alex and Mojo
We went the West Greenwich Horseman's Association (WGHA) Fall Fest. The kids won the junior division year end award for the country pace series and all got new jackets. Rob won the Open division and also got a jacket (tied with our friend LuAnn). We (Rob and Anna) were not on a team this year because Anna was injured at the first ride so we completed the series as individuals.
new WGHA jackets

Rob got a WGHA jacket too!
Life has been busy. We are still working on barn repairs (and probably will be until the snow sets in). We have been without a kitchen floor for 6 weeks. We hope to have a floor back before Thanksgiving.
I've been doing some trail running this year. Amanda loves to join me on the trails and has done runs of 2-3 miles without a problem. As usual, I jumped in by signing up for a race without training first. I had to back off some of my expectations and drop down some distances, but I have enjoyed the adventures. I ran the Macedonia 25k in Kent, CT. It was a 15.5 mile race with 3900′ of elevation. A few weeks later, I ran the Nipmuck Trail Marathon in Ashford, CT. That race didn't go quite as planned due to some serious IT band pain, but I did finish the race (with a lot of hiking).
Amanda running trails with me

The view during the Macedonia trail race

The view during the Macedonia trail race

My "bad idea" partner for trail races

Waiting on the Nipmuck trail marathon to start
Alex rode Mojo in the final jumping derby at Horse Power Farm and got second in the derby and reserve champion for the year in the pre-elementary division.
This morning was the first day of bird hunting for the fall (we hunted chukar today). Amanda loves to go take Rusty out for a hunt and she was in my room at 6 this morning to make sure we weren't late. Rusty did great finding birds and pointing.
Amanda and Rusty

Rusty retrieving a chukar

Rusty working the birds
Despite the busy schedules, we still try to carve out some time to ride as a family. So, this afternoon we went out with all five horses for a 6.5 mile ride in Pachaug. The weather was perfect (temps in the 60s) and the fall colors were spectacular.
Sometimes, when things are going just right, you have to kiss the one you love. Even if you happen to be riding on a horse at the time.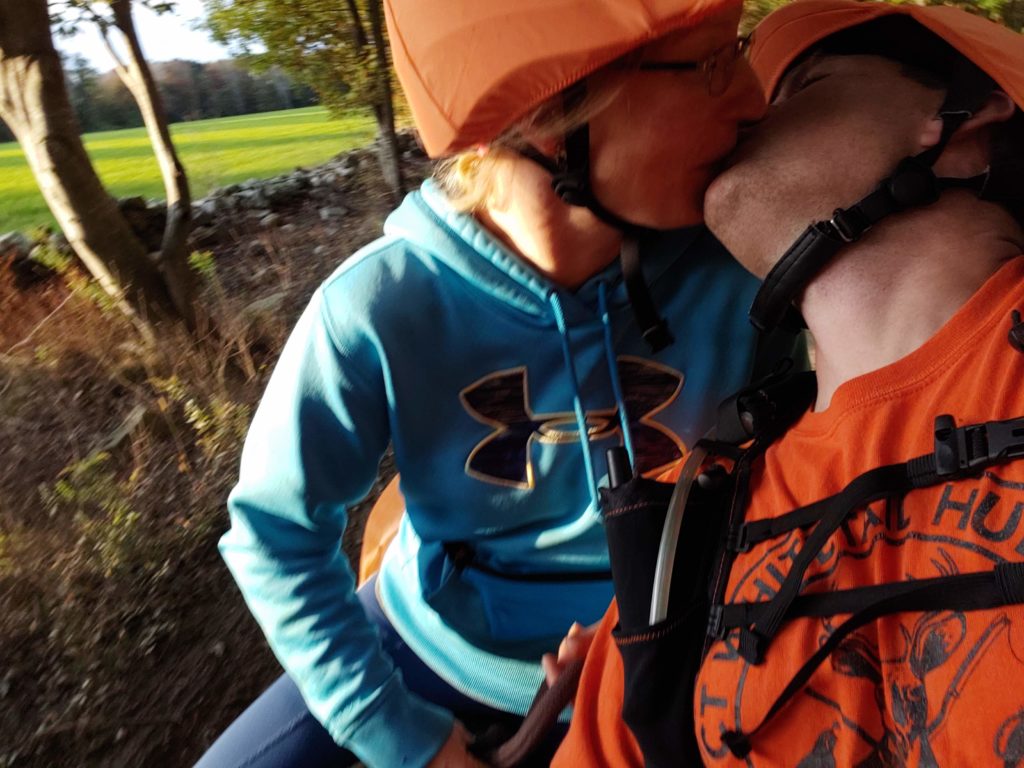 And the day ends, with another colorful sunset.