Sunday started with Breyerfest 2017.  We had never been to Breyerfest (and I'm not convinced we need to go back, but the girls disagree).  It really is a bunch of kids (and adults) getting together to buy and sell Breyer horses.  The girls found some new Breyer horses they couldn't live without and had to spend allowance on.  Alex joined in with Vicki, Alexis, and Amanda in hand painting some Stablemates (very small Breyer horses).  Amanda got her face painted, but it only lasted an hour or so before we had to wash it off due to a reaction.
Alexis and Vicki spent almost 2 hours in a tent learning how to make bridles and lead ropes out of tiny beads and sewing thread.  While they did that, we watched some riding and driving demos. Alex and Amanda both took a try on the mechanical bull.  We also watched some "splash dogs" which were dogs jumping into a pool of water for distance.  The dogs loved it.  At one point, Alex got called up to help hold one of the dogs who was very excited about doing his jumps.
Once we had our fill of Breyerfest, we went back to the hotel for a break.  Later, we hiked almost 2 miles to Cold Stone for some ice cream.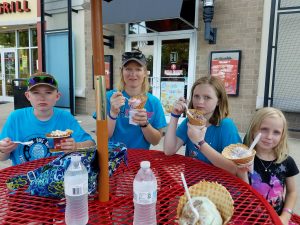 On Monday, we had breakfast and hit the road.  We headed South to Mammoth Cave National Park.  The Visitor's Center is very well put together and we spent almost an hour learning about the history of the park and the caves.  The 405+ miles of mapped cave make Mammoth the largest cave in the world.  There are estimates that another 600 miles remain to be mapped.  We did the "Domes and Dripstones" tour which was very interesting and included both large open areas and unique formations within the caves.
We learned a lot of interesting tidbits during the tour, although Vicki felt it would have been more interesting to just hike and look without the guide talking so much.
We ended the day with some pizza at the hotel and a study session for Alexis and Vicki.  After all, we are here for a competition.  Check-in is tomorrow!