This morning we left on a short trip to check out a new horse.  This afternoon, we arrived at home to a herd that was anxious to find out who was on the trailer since the seven of them were all in the pasture.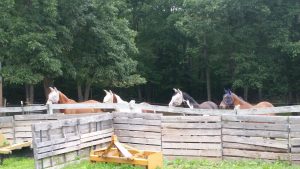 Teddy is the newest member of the herd.  He is a 15.1hh, 9-year-old, bay Arabian gelding.
The rest of the boys are hoping he gets to come out and play with them soon.
Teddy has been acquired because Alex is ready to move back onto Dakota for his primary mount.  Nike has been awesome for Alex for the past two years, but Alex will always have a stronger love for Dakota.  The two of them have an amazing bond.  With that in mind, we have consented which meant Anna needed a different horse.  We were expecting that Teddy was a 14.2hh Arabian, but he felt bigger when we rode him.  Once we got him home and saw him standing across the fence from the others, we grabbed the tape and checked.  Sure enough, he is a solid 15.1hh.  The plan is for Anna to ride him through the fall and into next year.  At some point, we will decide if Vicki gets him for her next mount (which she is convinced is absolutely the case) or if we need something different.  If these kids would stop outgrowing their ponies, life would be much easier.
We have a few things to work on with Teddy.  He has some serious head shyness around his ears (worse than Dakota was when we bought him) which makes it difficult to put on a bridle.  He also needs work on his trot-canter transitions.  Since the kids will be at 4-H camp next week (including Amanda at day camp), she will have 5 days of nothing else to do, so she should have everything fixed before next weekend.  Or not.  Either way, he is in good condition, barefoot, and a good size, so we have a solid starting point.  The million dollar question is, will he be ready for his first 25 mile ride in 4.5 weeks?  Stayed tuned for updates!